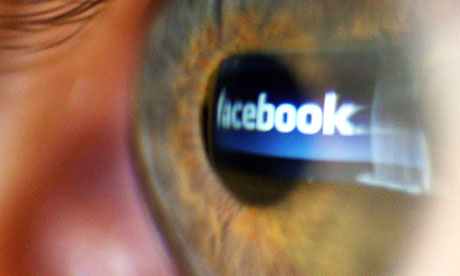 By most estimates Facebook has around 800 million registered users. This means that its policies governing what is or is not appropriate user content should bear detailed scrutiny. So, a look at Facebook's recently publicized guidelines for sexual and violent content show a somewhat peculiar view of morality. It's a view that some characterize as typically American prudishness, but with a blind eye towards violence.
[div class=attrib]From the Guardian:[end-div]
Facebook bans images of breastfeeding if nipples are exposed – but allows "graphic images" of animals if shown "in the context of food processing or hunting as it occurs in nature". Equally, pictures of bodily fluids – except semen – are allowed as long as no human is included in the picture; but "deep flesh wounds" and "crushed heads, limbs" are OK ("as long as no insides are showing"), as are images of people using marijuana but not those of "drunk or unconscious" people.
The strange world of Facebook's image and post approval system has been laid bare by a document leaked from the outsourcing company oDesk to the Gawker website, which indicates that the sometimes arbitrary nature of picture and post approval actually has a meticulous – if faintly gore-friendly and nipple-unfriendly – approach.
For the giant social network, which has 800 million users worldwide and recently set out plans for a stock market flotation which could value it at up to $100bn (£63bn), it is a glimpse of its inner workings – and odd prejudices about sex – that emphasise its American origins.
Facebook has previously faced an outcry from breastfeeding mothers over its treatment of images showing them with their babies. The issue has rumbled on, and now seems to have been embedded in its "Abuse Standards Violations", which states that banned items include "breastfeeding photos showing other nudity, or nipple clearly exposed". It also bans "naked private parts" including "female nipple bulges and naked butt cracks" – though "male nipples are OK".
The guidelines, which have been set out in full, depict a world where sex is banned but gore is acceptable. Obvious sexual activity, even if "naked parts" are hidden, people "using the bathroom", and "sexual fetishes in any form" are all also banned. The company also bans slurs or racial comments "of any kind" and "support for organisations and people primarily known for violence". Also banned is anyone who shows "approval, delight, involvement etc in animal or human torture".
[div class=attrib]Read the entire article here.[end-div]
[div class=attrib]Image courtesy of Guardian / Photograph: Dominic Lipinski/PA.[end-div]