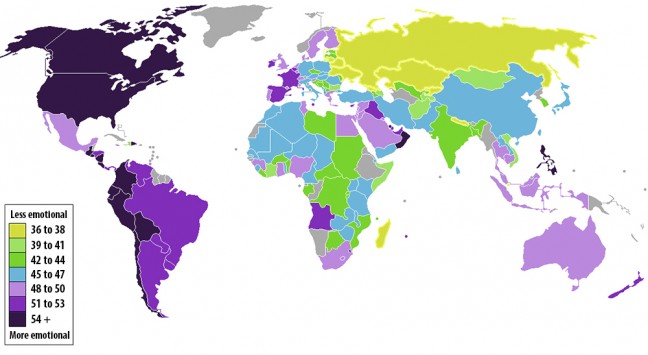 Are Canadians as a people more emotional than Brazilians? Are Brits as emotional as Mexicans? While generalizing and mapping a nation's emotionality is dubious at best, this map is nonetheless fascinating.
[div class=atfrib]From the Washington Post:[end-div]
Since 2009, the Gallup polling firm has surveyed people in 150 countries and territories on, among other things, their daily emotional experience. Their survey asks five questions, meant to gauge whether the respondent felt significant positive or negative emotions the day prior to the survey. The more times that people answer "yes" to questions such as "Did you smile or laugh a lot yesterday?", the more emotional they're deemed to be.
Gallup has tallied up the average "yes" responses from respondents in almost every country on Earth. The results, which I've mapped out above, are as fascinating as they are indecipherable. The color-coded key in the map indicates the average percentage of people who answered "yes." Dark purple countries are the most emotional, yellow the least. Here are a few takeaways.
Singapore is the least emotional country in the world. "Singaporeans recognize they have a problem," Bloomberg Businessweek writes of the country's "emotional deficit," citing a culture in which schools "discourage students from thinking of themselves as individuals." They also point to low work satisfaction, competitiveness, and the urban experience: "Staying emotionally neutral could be a way of coping with the stress of urban life in a place where 82 percent of the population lives in government-built housing."
The Philippines is the world's most emotional country. It's not even close; the heavily Catholic, Southeast Asian nation, a former colony of Spain and the U.S., scores well above second-ranked El Salvador.
Post-Soviet countries are consistently among the most stoic. Other than Singapore (and, for some reason, Madagascar and Nepal), the least emotional countries in the world are all former members of the Soviet Union. They are also the greatest consumers of cigarettes and alcohol. This could be what you call and chicken-or-egg problem: if the two trends are related, which one came first? Europe appears almost like a gradient here, with emotions increasing as you move West.
People in the Americas are just exuberant. Every nation on the North and South American continents ranked highly on the survey. Americans and Canadians are both among the 15 most emotional countries in the world, as well as ten Latin countries. The only non-American countries in the top 15, other than the Philippines, are the Arab nations of Oman and Bahrain, both of which rank very highly.
[div class=attrib]Read the entire article following the jump.[end-div]