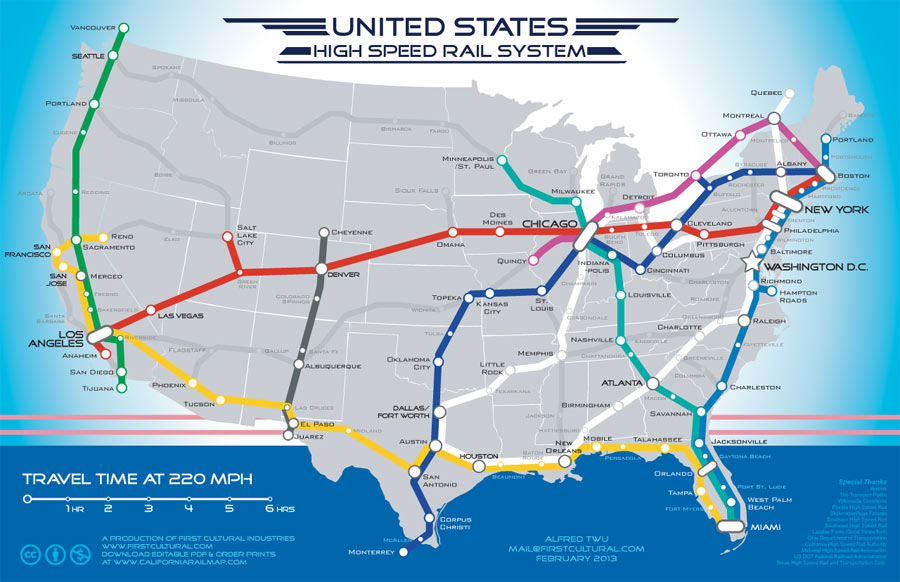 Now that air travel has become well and truly commoditized, and for most of us, a nightmare, it's time, again, to revisit the romance of rail. After all, the elitist romance of air travel passed away about 40-50 years ago. Now all we are left with is parking trauma at the airport; endless lines at check in, security, the gate and while boarding and disembarking; inane airport announcements and beeping golf carts; coughing, tweeting passengers crammed shoulder to shoulder in far too small seats; poor quality air and poor quality service in the cabin. It's even dangerous to open the shade and look out of the aircraft window for fear of waking a cranky neighbor, or, more calamitous still, for washing out the in-seat displays showing the latest reality TV videos.
Some of you, surely, still pine for a quiet and calming ride across the country taking in the local sights at a more leisurely pace. Alfred Twu, who helped define the 2008 high speed rail proposal for California, would have us zooming across the entire United States in trains, again. So, it not be a leisurely ride — think more like 200-300 miles per hour — but it may well bring us closer to what we truly miss when suspended at 30,000 ft. We can't wait.
[div class=attrib]From the Guardian:[end-div]
I created this US High Speed Rail Map as a composite of several proposed maps from 2009, when government agencies and advocacy groups were talking big about rebuilding America's train system.
Having worked on getting California's high speed rail approved in the 2008 elections, I've long sung the economic and environmental benefits of fast trains.
This latest map comes more from the heart. It speaks more to bridging regional and urban-rural divides than about reducing airport congestion or even creating jobs, although it would likely do that as well.
Instead of detailing construction phases and service speeds, I took a little artistic license and chose colors and linked lines to celebrate America's many distinct but interwoven regional cultures.
The response to my map this week went above and beyond my wildest expectations, sparking vigorous political discussion between thousands of Americans ranging from off-color jokes about rival cities to poignant reflections on how this kind of rail network could change long-distance relationships and the lives of faraway family members.
Commenters from New York and Nebraska talked about "wanting to ride the red line". Journalists from Chattanooga, Tennessee (population 167,000) asked to reprint the map because they were excited to be on the map. Hundreds more shouted "this should have been built yesterday".
It's clear that high speed rail is more than just a way to save energy or extend economic development to smaller cities.
More than mere steel wheels on tracks, high speed rail shrinks space and brings farflung families back together. It keeps couples in touch when distant career or educational opportunities beckon. It calls to adventure and travel. It is duct tape and string to reconnect politically divided regions. Its colorful threads weave new American Dreams.
That said, while trains still live large in the popular imagination, decades of limited service have left some blind spots in the collective consciousness. I'll address few here:
Myth: High speed rail is just for big city people.
Fact: Unlike airplanes or buses which must make detours to drop off passengers at intermediate points, trains glide into and out of stations with little delay, pausing for under a minute to unload passengers from multiple doors. Trains can, have, and continue to effectively serve small towns and suburbs, whereas bus service increasingly bypasses them.
I do hear the complaint: "But it doesn't stop in my town!" In the words of one commenter, "the train doesn't need to stop on your front porch." Local transit, rental cars, taxis, biking, and walking provide access to and from stations.
Myth: High speed rail is only useful for short distances.
Fact: Express trains that skip stops allow lines to serve many intermediate cities while still providing some fast end-to-end service. Overnight sleepers with lie-flat beds where one boards around dinner and arrives after breakfast have been successful in the US before and are in use on China's newest 2,300km high speed line.
[div class=attrib]Read the entire article following the jump.[end-div]
[div class=attrib]Image: U.S. High Speed Rail System proposal. Alfred Twu created this map to showcase what could be possible.[end-div]