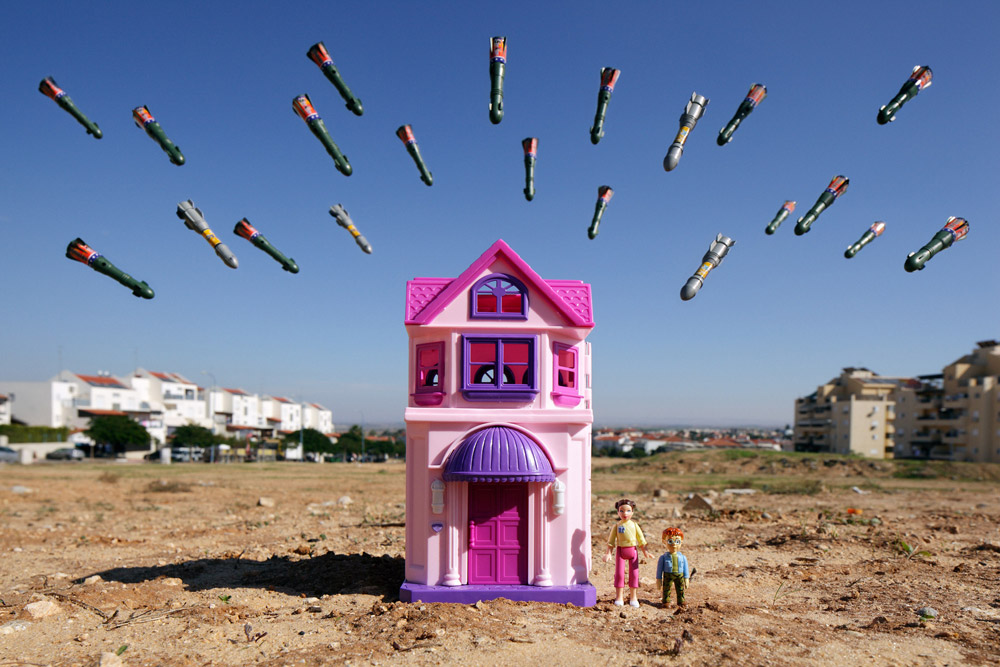 The very human invention that is war has taken an incalculable cost since it was first conceived, presumably when the first hunter-gatherers picked up the first rock or fashioned the first club. The cost on the innocent — especially the children — is brutal: death, pain, broken bodies, maimed limbs, fractured minds, shredded families.
Photographer Brian McCarty has chronicled the stories of some victims from the war and violence in the Middle East. In his visits to a therapeutic center in Jerusalem in 2011 he would watch the children work with therapists as they voice their painful memories and fear through art and play. Later, we would re-create their "war art" in photographs, often with the help of the children.
From Wired:
At the Spafford Children's Center for in East Jerusalem, L.A.–based photographer Brian McCarty watched as a little girl made a crayon drawing of a dead boy. She carefully colors in a red pool of blood around his body. It was a drawing that McCarty would later use to stage one of his photographs for WAR-TOYS, a series that recreates children's memories and fears of conflict in the Middle East with toys.
"Play can become a mechanism for healing," says McCarty. Drawing on the tenets of art and play therapy, which help children express emotions in non-verbal ways, he sees WAR-TOYS as providing witness to the often unseen impact of armed conflict on children, while serving as part of these children's therapeutic process.
McCarty first visited this therapeutic center in 2011 where he would observe as children worked with art and play therapists to tell and draw their stories. The drawings then served as a storyboard of sorts for McCarty, who re-created the scenes using locally purchased toys as characters and props. When possible, he brought the child along to help art direct the shoot.
McCarty worked with children in Jerusalem, the West Bank and Gaza, which produced a variety of drawings. Some children drew the keys their families kept as symbols of the homes they had to flee. A few boys portrayed heroic militants with homemade bombs. Young girls in Gaza City often drew mothers and babies near scenes of carnage.
Yet most of the drawings depicted the children's fears. One boy's drawing expressed how unattainable safety felt even with defense systems ready. It shows the sky full of incoming rockets and defensive interceptor missiles, while on the ground a bus explodes.
The use of toys as surrogates gives McCarty's reenactments a playful, fictional distance while shifting the perspective to that of a child's: closer to the ground, helplessly witnessing the shocking blur of play and violence.
The local toys also reveal the socio-economic layers of the region. While most of the toys in the region were made in China; in Gaza they were often botched discount versions.
And despite some previous efforts to rid the region of war toys, plastic soldiers, guns and bombs are ubiquitous. Notably, Israeli and Palestinian flags figures largely in the children's drawings, and thus McCarty's photographs, revealing the intensely divisive tribalism recognized, and sometimes identified with, from an early age.
"I've chosen to be as neutral as possible for the project. Much like the kids, I only know that the person shooting at me is a bad guy. They are 'them,' no matter which side of the border I'm on," McCarty says.
McCarty, who has used toys in his photographs for 17 years, views this series as the first phase of a larger project — though gaining access is a challenge. "It took two years and a number of face-to-face meetings for an Israeli NGO to grant me access," he says.
And that's only the first difficulty. There's also an element of danger. He recalled one particularly harrowing photo shoot: "Throughout, the sounds of outbound rockets and concussions from incoming airstrikes grew in intensity. I managed to complete my work, while experiencing first-hand the fear and anxiety the children face throughout their lives."
See more images and read the full story here.
Image:  Photograph from WAR-TOYS by Brian McCarty. Courtesy of Brian McCarty / Wired.