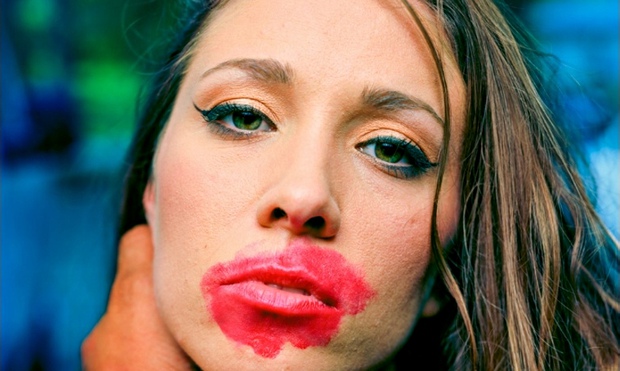 The process for many artists in often long and arduous. Despite the creative and, usually, fulfilling end result the path is frequently punctuated with disrespect, self-deprivation, suffering and pain. Indeed, many artists have paid a heavier price for their expression: censorship, imprisonment, torture, death.
So, it's refreshing to see an artist taking a more pleasure-filled route. Kissing. Someone has to do it!
From the Guardian:
From the naked women that Yves Klein covered in blue paint to Terry Richardson's bevy of porny subjects, the art world is full of work that for one person seems liberated and for another exploitative. Continuing to skirt that line is Jedediah Johnson, an American photographer whose ongoing series the Makeout Project involves him putting on lipstick then kissing people, before documenting the resulting smears in portraits.
Johnson's shots are really striking, with his LaChapellian palette of bright colours making the lipstick jump out from its surprisingly circuitous path across each person's face. The subjects look variously flirtatious, amused and ashamed; some have strange narratives, like the woman who is holding a baby just out of shot, her partner hovering off to one side.
It's sensational enough to have been covered in the Daily Mail with their characteristically BIZARRE use of capitalisation, perhaps chiefly because it seems cheeky – or indeed sleazy. "People say 'oh, it's disgusting and he's just doing it to get cheap thrills', and I guess that is kind of not totally untrue," Johnson tells me, explaining the germ of his project. "I just got this thought of this lipstick mark on your face when someone kisses you as being a powerful, loaded gesture that could communicate a lot. And also, y'know, there were a lot of people I knew who I wanted to kiss." It was a way of addressing his "romantic anxiety", which was holding him back from kissing those he desired.
So he started asking to kiss people at parties, generally picking someone he knew first of all, so the other partygoers could see it was an art project rather than a novel way of getting his end away. After a while, he graduated to studio portraits, and not just of attractive young women. He says he didn't want to be "the guy using art as an excuse to kiss people he wants to – and I don't think there's necessarily anything wrong with that, but that's just not who I wanted to be. So I'm going to have to kiss some people I don't want to." This includes a series of (still pretty attractive) men, who ended up teaching Jedediah a lot. "I didn't realise people lead a kiss – I would always just kiss people, and I was leading, and I had no idea. There have been a couple of times when I kissed guys and they led; I tried to move into different real estate on their face, and they wouldn't let me."
His work is understandably misinterpreted though, with some people seeing the hand that cradles the face in each shot as a controlling, violent image. "I understand that when you are just pointing the viewer in a direction, they come up with stuff you're not into." But the only thing that really grates him is when people accuse him of not making art. "I have two degrees in art, and I don't feel I have the ability to declare whether something is art or not. It's an awful thing to say."
The intrigue of his images comes from trying to assess the dynamic between the pair, from the woman biting her lip faux-seductively to those trying to hide their feelings about what's just happened. Is there ever an erotic charge? "A few times it's got really real for me; there's some where I was probably like oh that was nice, and they're thinking oh that was incredible, I don't know what to do now. The different levels are very interesting." He has had one unfortunate bad breath incident, though: "I was like hey, let's make out, and she was like, great, just let me finish my garlic string beans. She still had garlic in her mouth."
Read the entire story and see more images here.
Visit Jedediah Johnson's website to see the entire Makeout Project here.
Image: The Makeout Project by Jedediah Johnson. Courtesy of Jedediah Johnson / Guardian.