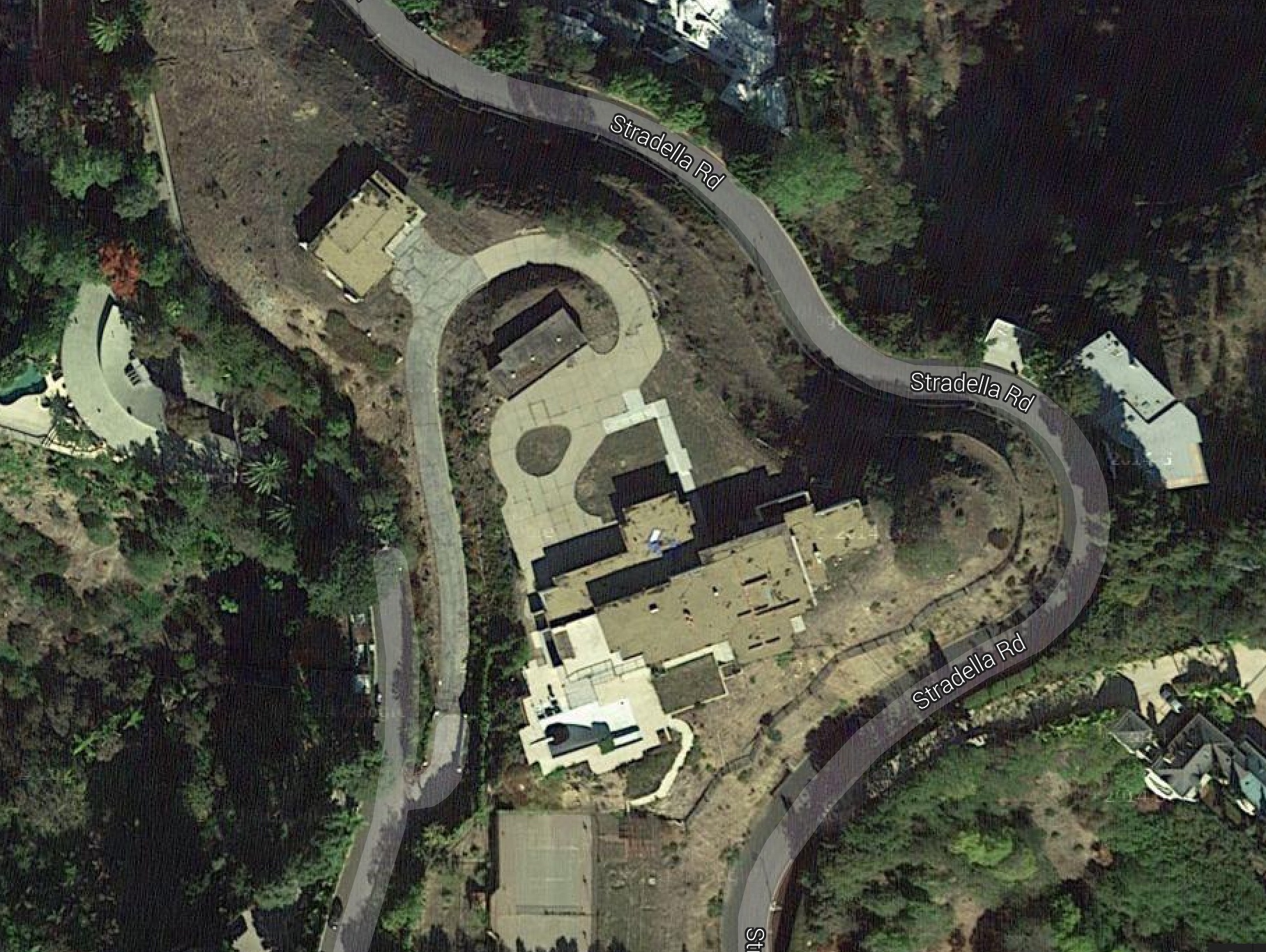 Poverty and wealth are relative terms here in the United States. Certainly those who have amassed millions will seem "poor" to the established and nouveaux-riche billionaires. Yet these is something rather surreal in the spectacle of watching Los Angeles' lesser-millionaires fight the mega-rich for their excess. As Peter Haldeman says in the following article of Michael Ovitz, founder of Creative Arts Agency, mere millionaire and landlord of a 28,000 square foot mega mansion, "Mr. Ovitz calling out a neighbor for overbuilding is a little like Lady Gaga accusing someone of overdressing. Welcome to the giga-mansion — Roman emperor Caligula, would feel much at home in this Californian circus of excess.
From NYT:
At the end of a narrow, twisting side street not far from the Hotel Bel-Air rises a knoll that until recently was largely covered with scrub brush and Algerian ivy. Now the hilltop is sheared and graded, girded by caissons sprouting exposed rebar. "They took 50- or 60,000 cubic yards of dirt out of the place," said Fred Rosen, a neighbor, glowering at the site from behind the wheel of his Cadillac Escalade on a sunny October afternoon.
Mr. Rosen, who used to run Ticketmaster, has lately devoted himself to the homeowners alliance he helped form shortly after this construction project was approved. When it is finished, a modern compound of glass and steel will rise two stories, encompass several structures and span — wait for it — some 90,000 square feet.
In an article titled "Here Comes L.A.'s Biggest Residence," The Los Angeles Business Journal announced in June that the house, conceived by Nile Niami, a film producer turned developer, with an estimated sale price "in the $150 million range," will feature a cantilevered tennis court and five swimming pools. "We're talking 200 construction trucks a day," fumed Mr. Rosen. "Then multiply that by all the other giant projects. More than a million cubic yards of this hillside have been taken out. What happens when the next earthquake comes? How nuts is all this?"
By "all this," he means not just the house with five swimming pools but the ever-expanding number of houses the size of Hyatt resorts rising in the most expensive precincts of Los Angeles. Built for the most part on spec, bestowed with names as assuming as their dimensions, these behemoths are transforming once leafy and placid neighborhoods into dusty enclaves carved by retaining walls and overrun by dirt haulers and cement mixers. "Twenty-thousand-square-foot homes have become teardowns for people who want to build 70-, 80-, and 90,000-square-foot homes," Los Angeles City Councilman Paul Koretz said. So long, megamansion. Say hello to the gigamansion.
In Mr. Rosen's neighborhood, ground was recently broken on a 70,000- to 80,000-square-foot Mediterranean manse for a citizen of Qatar, while Chateau des Fleurs, a 60,000-square-foot pile with a 40-car underground garage, is nearing completion. Not long ago, Anthony Pritzker, an heir to the Hyatt hotel fortune, built a boxy contemporary residence for himself in Beverly Hills that covers just shy of 50,000 square feet. And Mohamed Hadid, a prolific and high-profile developer (he has appeared on "The Shahs of Sunset" and "The Real Housewives of Beverly Hills"), is known for two palaces that measure 48,000 square feet each: Le Palais in Beverly Hills, which has a swan pond and a Jacuzzi that seats 20 people, and Le Belvédère in Bel Air, which features a Turkish hammam and a ballroom for 250.
Why are people building houses the size of shopping malls? Because they can. "Why do you see a yacht 500 feet long when you could easily have the same fun in one half the size?" asked Jeffrey Hyland, a partner in the Beverly Hills real estate firm Hilton & Hyland, who is developing five 50,000-square-foot properties on the site of the old Merv Griffin estate in Beverly Hills.
Le Belvédère was reportedly purchased by an Indonesian buyer, and Le Palais sold to a daughter of President Islam Karimov of Uzbekistan. According to Mr. Hyland, the market for these Versailles knockoffs is "flight capital." "It's oligarchs, oilgarchs, people from Asia, people who came up with the next app for the iPhone," he said. While global wealth is pouring into other American cities as well, Los Angeles is still a relative bargain, Mr. Hyland said, adding: "Here you can buy the best house for $3,000 a square foot. In Manhattan, you're looking at $11,000 a square foot and you get a skybox."
Speculators are tapping the demand, snapping up the best lots, bulldozing whatever is on them and building not only domiciles but also West Coast "lifestyles." The particulars can seem a little puzzling to the uninitiated. The very busy Mr. Niami (he also built the Winklevoss twins' perch above the Sunset Strip) constructed a 30,000-square-foot Mediterranean-style house in Holmby Hills that locals have called the Fendi Casa because it was filled with furniture and accessories from the Italian fashion house.
The residence also offered indoor and outdoor pools, commissioned artwork by the graffiti artist Retna, and an operating room in the basement. "It's not like it's set up to take out your gallbladder," said Mark David, a real estate columnist for Variety, who has toured the house. "It's for cosmetic procedures — fillers, dermabrasion, that kind of thing." The house sold, with all its furnishings, to an unidentified Saudi buyer for $44 million.
Read the entire article here.
Image: Satellite view of the 70,000 square foot giga-mansion development in Bel Air. Los Angeles. Courtesy of Google Maps.