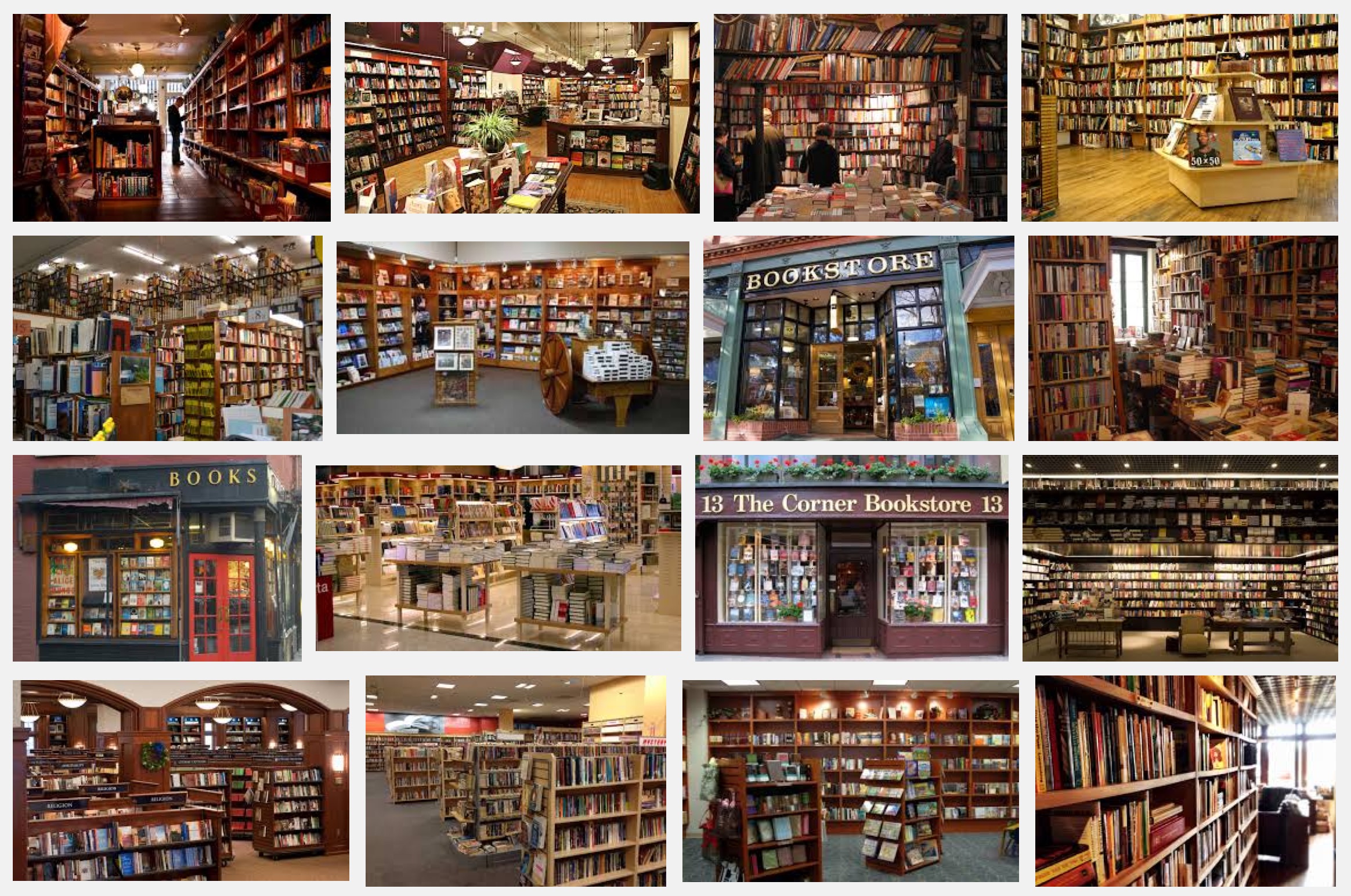 Much has been said about the demise of reading, literature, books and bookstores. In the US alone between 2000 and 2007 around 1,000 independent bookstores shuttered their doors. The national chain Borders went bankrupt in 2011, closing over 600 locations. Electronic forms of entertainment, e-readers, and Amazon.com have all been highlighted as villains in the destruction of physical print and brick-and-mortar bookstores.
Yet, over the last few years a somewhat surprising trend seems to have emerged. It's not an exponential curve, such as new members flocking to social media in their gazillions, but it's encouraging nonetheless. According to the American Booksellers Association, the number of member independent bookstores has increased more than 20 percent during the five year period from 2009 to 2014. And, to add icing to the cake Amazon recently declared open a real, physical bookstore! Yes, you read the last sentence correctly — the bookstore is located in Seattle, and carries around 5,000 titles.
So, what's going on?
From ars technica:
Literary fans in Seattle will no longer need their MacBooks to procure the latest bestselling book: they just need to stroll down to the local Amazon Books store. Today, the online retailer is opening its flagship physical outlet in Seattle's University Village. According to a press release, the selection of available titles is based on Amazon.com customer ratings, pre-orders, sales, popularity on Goodreads, and curator assessments. If you need further convincing, Amazon Books is also stocking "review cards" so as to ensure you know exactly what everyone else thought about your potential purchase.
Interestingly, the books will all be displayed "face-out," meaning that customers will be able to see the covers instead of merely the spine. The reason for this, explains Amazon Books vice president Jennifer Cast, is that the company wants to showcase the authors and their work rather than cramming as many things on a shelf as possible. The first Amazon Books store is fairly large at 5,500 square feet (510 square meters) of retail space and 2,000 square feet (185 square meters) of storage.
Read the entire ars techica article here.
From Slate:
The recent news of the opening of an independent bookstore on Manhattan's Upper West Side was greeted with surprise and delight, since a neighborhood once flush with such stores had become a retail book desert. The opening coincides with the relocation of the Bank Street Bookstore near Columbia University, leading the New York Times to declare, "Print is not dead yet — at least not on the Upper West Side."
Two stores don't constitute a trend, but they do point to a quiet revival of independent bookselling in the United States. They also underscore the shifting sands of physical bookselling, where the biggest losers are not—as was once assumed—the independent booksellers, but rather the large book chains.
Only a few years ago, observers projected that the rise of chain stores and Amazon would lead to the vast shrinkage of independent bookstores. According to the American Booksellers Association, the number of member independent bookstores has increased more than 20 percent since the depths of the recession, from 1,651 in 2009 to 2,094 in 2014. Meanwhile, Borders went bankrupt in 2011, and the fate of Barnes & Noble, which failed to make the Nook into a viable e-reader competitor with Amazon's Kindle, appears murky. What happened?
The short answer is that by listing their shares as public companies, both Borders and Barnes & Noble were drawn into a negative vortex that destroyed the former and has crippled the latter. Not only did they become public companies, but they positioned themselves as high-growth companies, focused on innovation and disruption. That forced them to compete with the growth company par excellence in their space: Amazon. It also forced them to pursue high sales volume at the expense of inventories. Those strategies, as it turned out, were precisely wrong for the actual business they were in: selling books to a selective audience. Which is precisely what independent bookstores are good at.
Barnes & Noble, Borders, Books-A-Million, and even Costco looked to be squeezing the life out of indies in the 1990s and into the aughts. Borders alone went from 21 stores in 1992 to 256 superstores in 1999. Barnes & Noble saw even greater growth. Those stores offered more choices, cafes, magazines, and for a while, music. Many independents, already operating with razor-thin margins, couldn't compete. Between 2000 and 2007, some 1,000 independent bookstores closed.
But even as they were expanding, the chains were beset by questionable management decisions pressured by the demands of public markets to grow, grow, grow. Facing the need for expensive investment in technology, Borders sold its online distribution to Amazon in 2001 and threw its efforts into more stores and bigger stores, using its share price to finance massive debt. Barnes & Noble opened more superstores as well, but it also decided to challenge Amazon by developing the Nook at a cost of more than $1 billion.
The results were disastrous. Barnes & Noble bled money; it just announced earnings with yet another quarter of losses and declining revenue. Amazon dominated because it could spend far more money on technology than the chains, and because its core competency was in the disruptive technologies of e-readers, distribution, and inventory management. Amazon was never seen primarily as a retailer, and hence it could carry massive inventories that were a drag on its earnings and then spend billions on research and development because investors accepted Amazon's narrative that it was a disruptive technology company redefining how everything is sold, not just books.
The chains, however, were valued as retailers, which meant that they had to have higher sales, more stores, and lower inventory to justify their stock prices. Because investors viewed the chains as retailers, they had to move product. That is what clothing stores do: Old inventory gets put on sale and then off-loaded to discount stores. Unsold inventory shows up on income statements as a negative against sales. To demonstrate higher profitability, retail stores have an incentive to turn over their inventories quickly.
For clothing and electronics and automobiles, that workflow is in sync with consumer behavior. Consumers want new fashion, the newest flat-screen, the latest model car. Book consumers aren't the same. Yes, new titles can drive sales, but book buyers also look for forgotten classics and hidden gems. That means poring over shelves, and that requires old inventory. The chains and their management could have tried to set investors' expectations for higher unsold inventories as a healthy part of the specific business of buying and selling books. But they didn't. They treated old inventory as a drag rather than an asset and began to trim their shelves of titles. (Alternatively, they could have tried to position themselves as larger, better-stocked versions of the independents, focusing on the particular desires of book customers.)
Independent bookstores never had to answer to the dictates of public markets. Many of their proprietors understood, intuitively and from conversations with customers, that a well-curated selection—an inventory of old and new books—was their primary and maybe only competitive advantage. In the words of Oren Teicher, CEO of the American Booksellers Association, "The indie bookselling amalgam of knowledge, innovation, passion, and business sophistication has created a unique shopping experience."
Read the entire Slate article here.
Image courtesy of Google Search.