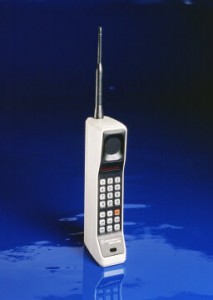 Businesses and brands come and they go. Seemingly unassailable corporations, often valued in the tens of billions of dollars (and sometimes more) fall to the incessant march of technological change and increasingly due to the ever fickle desires of the consumer.
And, these monoliths of business last but blinks of an eye when compared with the likes of our vast social empires such as the Roman, Han, Ottoman, Venetian, Sudanese, Portuguese, which persist for many hundreds — sometimes thousands — of years.
Yet, even a few years ago who would have predicted the demise of the Motorola empire, the company mostly responsible for the advent of the handheld mobile phone. Motorola had been on a recent downward spiral, failing in part to capitalize on the shift to smartphones, mobile operating systems and apps. Now it's brand is dust. RIP brick!
From the Guardian:
Motorola, the brand which invented the mobile phone, brought us the iconic "Motorola brick", and gave us both the first flip-phone and the iconic Razr, is to cease to exist.
Bought from Google by the Chinese smartphone and laptop powerhouse Lenovo in January 2014, Motorola had found success over the past two years. It launched the Moto G in early 2014, which propelled the brand, which had all but disappeared after the Razr, from a near-0% market share to 6% of sales in the UK.
The Moto G kickstarted the reinvigoration of the brand, which saw Motorola ship more than 10m smartphones in the third quarter of 2014, up 118% year-on-year.
But now Lenovo has announced that it will kill off the US mobile phone pioneer's name. It will keep Moto, the part of Motorola's product naming that has gained traction in recent years, but Moto smartphones will be branded under Lenovo.
Motorola chief operating officer Rick Osterloh told Cnet that "we'll slowly phase out Motorola and focus on Moto".
The Moto line will be joined by Lenovo's Vibe line in the low end, leaving the fate of the Moto E and G uncertain. The Motorola Mobility division of Lenovo will take over responsibility for the Chinese manufacturer's entire smartphone range.
Read the entire story here.
Image: Motorola DynaTAC 8000X commercial portable cellular phone, 1983. Courtesy of Motorola.