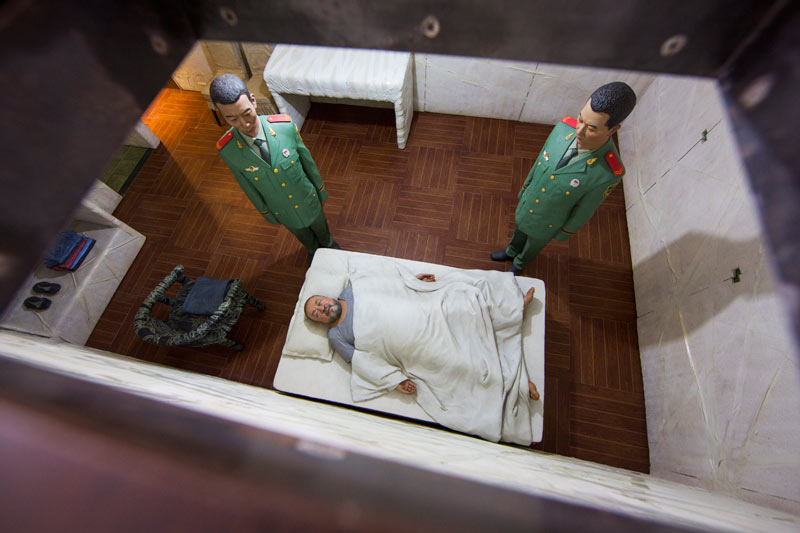 Artist Ai Weiwei has suffered at the hands of the Chinese authorities much more so than Andy Warhol's brushes with surveillance from the FBI. Yet the two are remarkably similar: brash and polarizing views, distinctive art and creative processes, masterful self-promotion, savvy media manipulation and global ubiquity. This is all the more astounding given Ai Weiwei's arrest, detentions and prohibition on travel outside of Beijing. He's even made it to the Venice Biennale this year — only his art of course.
From the= Guardian:
To some, he is verging on a saint and martyr, singlehandedly standing against the forces of Chinese political repression. For others he is a canny manipulator, utterly in control of his reputation and place in the art world and market. For others still, he is all these things: an artist who outdoes even Andy Warhol in his ubiquity, his nimbleness at self-promotion and his use of every medium at his disposal to promulgate his work and his activism.
Whatever your views on the Chinese artist Ai Weiwei, one thing is clear: he is everywhere, from the Hampstead theatre in London, where Howard Brenton's play about the 81 days Ai spent in detention in 2011 is underway, to the web, where his the video for his heavy metal song Dumbass is circulating, to the Venice Biennale, where not one but three of his large-scale works are on display – perhaps the most exposure for any single artist at the international festival.
One of the works, Bang, a forest of hundreds of tangled wooden stools, is the most prominent piece in the German national pavilion. Then, in the Zuecca Project Space on the island of Giudecca, is his installation Straight: 150 tons of crushed rebar from schools flattened in the Sichuan earthquake of 2008, recovered by the artist and his team, who bought the crumpled steel rods as scrap before painstakingly straightening them and piling them up in a wave-like sculptural arrangement.
By far the most revealing about Ai's own experience, though, is the third piece, SACRED. Situated in the church of Sant'Antonin, it consists of six large iron boxes, into which visitors can peek to see sculptures recreating scenes from the artist's detention. Here is a miniature Ai being interrogated; here a miniature Ai showers or sits on the lavatory while two uniformed guards stand over him. Other scenes show him sleeping and eating – always in the same tiny space, always under double guard. (The music video refers to some of these scenes with a lightly satirical tone that is absent from the sculpture.)
According to Greg Hilty of London's Lisson Gallery, under whose auspices SACRED is being shown, and who saw Ai in China a week ago, the work is a form of "therapy or exorcism – it was something he had to get out. It is an experience that we might see as newsworthy, but for him, he was the one in it."
Read the entire article here.
Image: Waking nightmare … Ai Weiwei's Entropy (Sleep), from SACRED (2013). Courtesy of David Levene / Guardian.