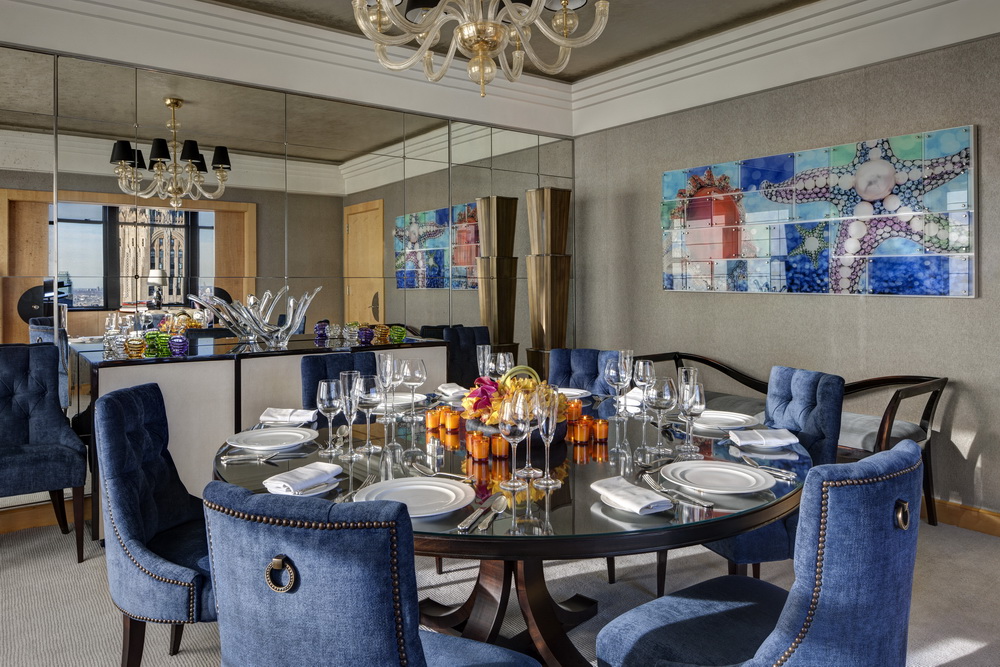 A seven-night stay at an ultra-luxurious hotel suite for the super-rich will set you back a staggering $200,000. To put it into perspective, this is just slightly over $196,500 — the median U.S house price at the end of 2013. The Jewel Suite by Martin Katz at the New York Palace hotel commands a princely sum of $28,000 per night.
From the NYT:
In most hotels, luxury is measured by the thread count of the linens (minimum 400, please) or the brand of the bathroom toiletries. But for those at the highest end of the market, where the only restraint on consumption is how conspicuous they want to be, a race to the top has broken out, with hotels outdoing one another to serve this tiny, if highly visible, niche.
Take the Jewel Suite by Martin Katz at the New York Palace, one of two recently opened specialty suites. The three-story, 5,000-square-foot space — a sort of penthouse Versailles — itself resembles a jewel box, albeit one with its own private elevator and views of the Empire State and Chrysler Buildings.
It's hard to imagine Louis XIV being left wanting. The floor in the entryway is glittering black marble arranged in a sunburst pattern, while a 20-foot crystal chandelier hangs from the ceiling. The living room sofa is a brilliant sapphire blue and a tufted ivory chaise has a pearlescent sheen. Two floors up, in a second living room next to a vast private terrace, the wet bar (one of two in the suite) and half-bath are swathed in a sparkling wall covering, and an angular lavender sofa calls to mind an amethyst crystal. Iridescent tiles lining the private rooftop hot tub give the impression of sinking into a giant opal.
And then there are the jewels themselves: More than a million dollars of the jewelry designer's work is displayed in five museum-like cases in the entryway, and a boudoir area in the master suite has lighting and floor-to-ceiling mirrors designed specifically for jewelry showings.
Such grandeur — or excess, depending on your point of view — is all there for the taking, starting at $25,000 a night.
"There is a very narrow market who want nothing less," said Scott Berman, the United States hospitality and leisure practice leader at PricewaterhouseCoopers. "Price is not an issue. We're talking about the jet set of the jet sets — high-net-worth individuals, generally foreign travelers in the U.S. who are accustomed to opulence."
"It's bragging rights," said Pam Danziger, president of the luxury marketing firm Unity Marketing and author of "Putting the Luxe Back in Luxury," published in 2011.
"I think this is just a matter of other brands trying to play catch-up to that. They don't want to be the only hotel on the block that doesn't have this super, super high-end offering."
In New York, the race to capture the highest end of the market continues. In November, the Mandarin Oriental, New York, opened a 3,300-square-foot suite that includes floor-to-ceiling windows and a dining room that seats 10; its rate is $28,000 a night. The Loews Regency Hotel in New York reopened last week after a yearlong, $100 million renovation, and six one-of-a-kind suites will open in April. (Rates haven't been set yet.)
"We want to present an image that's commensurate with the new product," said Jonathan Tisch, chairman of Loews Hotels. "By doing six different designs, we can create a sense of luxury in six different ways."
"We've seen more and more boutique hotels and the bigger-name hotels making suites that are one-off," said Kris Fuchs, principal at Suite New York, a furniture showroom involved in the Regency's suite renovation. "I think it makes it extra special that you're in a room no one else in the hotel has."
This trend of super-suites had overseas antecedents, with demand driven by a growing cadre of the ultra-rich from around the world.
"Some of the major European capitals have had this going on in the past few years," said David Loeb, a senior hotel analyst at Robert W. Baird & Company.
Ms. Danziger said the trend started in places like Singapore, London and major Middle Eastern cities. "You find that the new money types are the kinds given to this excessive display, valuing the display of this excessive, over-the-top consumption," she said. "Subtlety is not appreciated."
In the United States, this luxury race took longer to get going, in part because of the recession and a resistance to overt displays of wealth. But now, any such concerns have given way. It is perhaps most noticeable in New York City's thriving hotel market, although spaces with similar square footage and amenities (if slightly less stratospheric rates) are surfacing in cities including Las Vegas, Miami and Dallas.
"Development is strong again," said David Chase, general manager of the New York Palace. After struggling through the aftermath of the recession, luxury hotels are recovering and investing in capital improvements.
This week, the Ritz-Carlton in Dallas will open a 5,135-square-foot suite wing, including three adjoining suites and two rooms, for travelers who bring an entourage. "We found this need for this private area," its general manager, Roberto van Geenen, said. Multiple interconnected spaces make it more convenient to house the phalanx of nannies, assistants, bodyguards, personal chefs and other attendants that the super-wealthy bring with them on trips.
"There are more and more hotels in that market, in Miami in particular, that are competing for very high-end leisure travelers," Mr. Loeb said. "The growth of international travel is affecting many of the major markets in the U.S."
"Without question this will increase the prestige of the hotel," said John Laclé, general manager of the Hilton Bentley Miami/South Beach in Miami Beach, which opened a 3,000-square-foot penthouse in December.
Hotel industry professionals say these over-the-top suites serve a dual purpose. "A large part of what we do is creating an image," Mr. Tisch said. Super-suites cater to the needs of billionaire travelers as well as the imaginations of middle-class tourists.
"This hotel already had a fantastic flow of high-net-worth people using our suites," Mr. Chase said, listing Saudi diplomats and royalty, as well as Hollywood and sports stars, as regular guests.
Read the entire story here.
Image: The New York Palace – Dining room, Jewel Suite by Martin Katz. Courtesy of Martin Katz / The New York Palace.