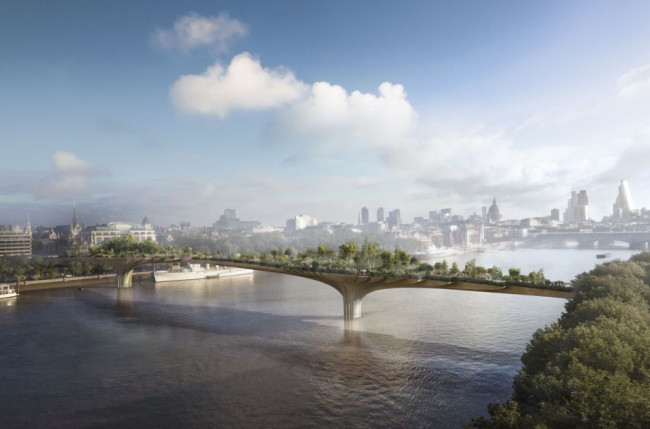 Should it come to fruition, London's answer to Lower Manhattan's High Line promises to be a delightful walker's paradise and another visitor magnet. The Garden Bridge is a new pedestrian walkway across the River Thames designed with nature in mind, and planted throughout with trees, shrubs and wildflowers. Interestingly, the idea for the design came from British national treasure, actress Joanna Lumley.
From Slate:
British designer Thomas Heatherwick has a knack for reinventing iconic designs. See, for example, his modern take on a midcentury double-decker bus or his 2012 Olympic cauldron, made of 204 copper petals representing participating nations. Heatherwick is also known for whimsical inventions like his 2004 rolling bridge, which curls up on itself to let boats pass beneath it.
The latest proposal from Heatherwick, the man that mentor Terence Conran branded a modern-day Leonardo da Vinci, is a nature-inspired walkway across the Thames: The Garden Bridge.
Oddly, the idea for the design came from Absolutely Fabulous actress Joanna Lumley, who approached Heatherwick years ago. The bridge would be a new structure across the river intended to help improve pedestrian life by connecting North and South London with a planted garden path landscaped by U.K. designer and horticulturalist Dan Pearson. It would be filled with indigenous river edge trees, shrubs, and wildflowers and include benches and walkways of varying widths to create both intimate and more expansive spaces along the walkway. If built, the bridge would be an obvious crowdpleaser as a public green space, lookout point, and tourist destination. In London it would be a rare new jewel in the crown of a city already famed for its gardens.
Why is the idea of a slow garden path through a bustling urban landscape so appealing? Perhaps it's because, like a vertical garden, such greenways inject our concrete metropolises with a stylized dose of the natural world we destroyed to build them. (Even if the inevitable crowds might detract from the imagined experience.)
Or perhaps it has something to do with biologist Edward O. Wilson's biophilia hypothesis, described in Charles Montgomery's new book Happy City as the notion that "humans are hardwired to find particular scenes of nature calming and restorative." Montgomery also discusses a theory by biologists Stephen and Rachel Kaplan that explains how negotiating busy city streets demands draining "voluntary attention," whereas "involuntary attention, the kind we give to nature, is effortless, like a daydream or a song washing through your brain. You might not even realize you are paying attention and yet you may be restored and transformed by the act."
Is this London's answer to NYC's High Line, itself inspired by Paris' Promenade plantée? (Although those projects were built on the ruins of abandoned railway tracks, the parallels are clear.) Earlier this week, the Financial Times noted that the initiative has been "seen by many as the capital's answer to New York's much-praised High Line," adding that "the project appealed to the rivalry between New York and London."
While the proposed Garden Bridge has the informal support of Mayor Boris Johnson, it would be built using mostly private funding (and board trustees have rejected the idea of selling naming rights to corporate sponsors). Half of that money has already been raised, through private donations and a recent injection of cash from the government, notes The Independent, which reported on Wednesday that Transport for London, the city's transit authority, has pledged 30 million pounds in support of the project.
Until Dec. 20, the public can visit the website of the Garden Bridge Trust that has been set up to welcome suggestions and thoughts on the plan, which if built could be open to the public in late 2017. In the meantime, this Garden Bridge video narrated by Lumley offers a sneak peek.
Read the entire article here.
Image: Thomas Heatherwick's Garden Bridge would provide a leisurely garden path across the Thames River. Courtesy Arup.