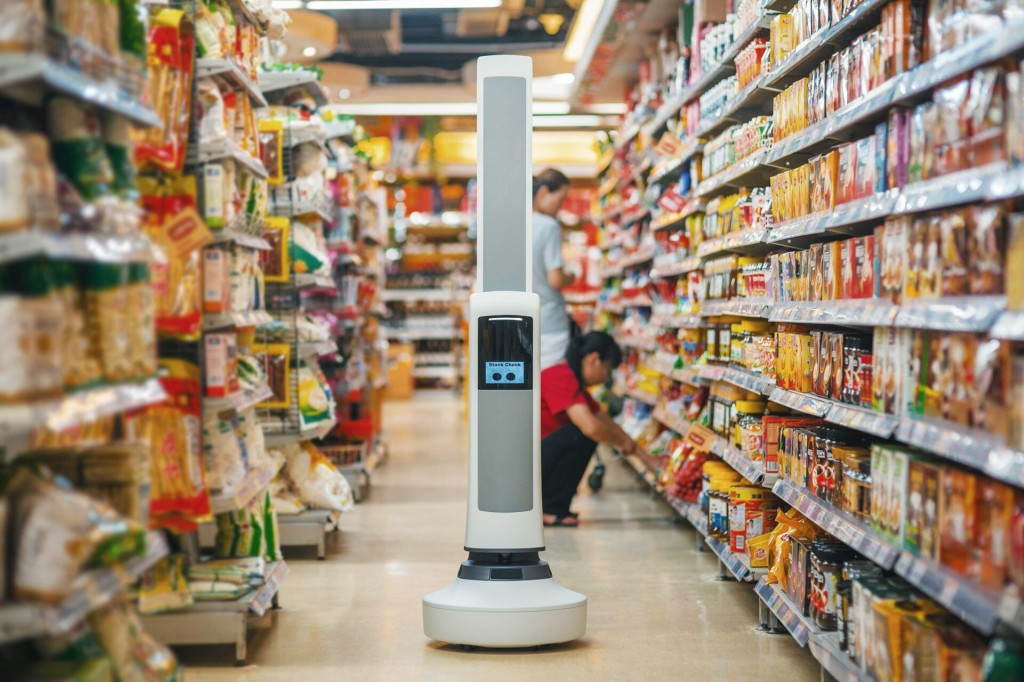 Meet Tally and it may soon be coming to a store near you. Tally is an autonomous robot that patrols store aisles and scans shelves to ensure items are correctly stocked. While the robot doesn't do the restocking itself — beware stock clerk, this is probably only a matter of time — it audits shelves for out-of-stock items, low stock items, misplaced items, and pricing errors. The robot was developed by start-up Simbe Robotics.
From Technology Review:
When customers can't find a product on a shelf it's an inconvenience. But by some estimates, it adds up to billions of dollars of lost revenue each year for retailers around the world.
A new shelf-scanning robot called Tally could help ensure that customers never leave a store empty-handed. It roams the aisles and automatically records which shelves need to be restocked.
The robot, developed by a startup called Simbe Robotics, is the latest effort to automate some of the more routine work done in millions of warehouses and retail stores. It is also an example of the way robots and AI will increasingly take over parts of people's jobs rather than replacing them.
Restocking shelves is simple but hugely important for retailers. Billions of dollars may be lost each year because products are missing, misplaced, or poorly arranged, according to a report from the analyst firm IHL Services. In a large store it can take hundreds of hours to inspect shelves manually each week.
Brad Bogolea, CEO and cofounder of Simbe Robotics, says his company's robot can scan the shelves of a small store, like a modest CVS or Walgreens, in about an hour. A very large retailer might need several robots to patrol its premises. He says the robot will be offered on a subscription basis but did not provide the pricing. Bogolea adds that one large retailer is already testing the machine.
Tally automatically roams a store, checking whether a shelf needs restocking; whether a product has been misplaced or poorly arranged; and whether the prices shown on shelves are correct. The robot consists of a wheeled platform with four cameras that scan the shelves on either side from the floor up to a height of eight feet.
Read the entire article here.
Image: Tally. Courtesy of Simbe Robotics.