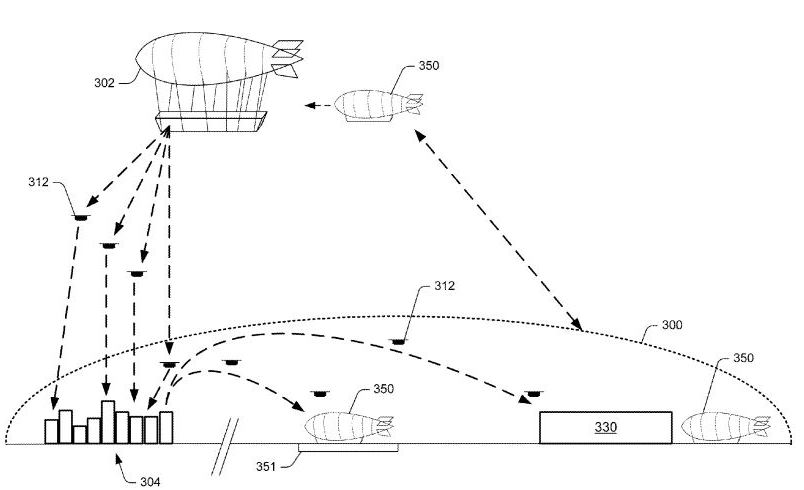 I'm not sure whether to love or hate Amazon (the online retailer). I love the one-click convenience and the mall-less shopping experience. But, Amazon's lengthy tentacles are increasingly encroaching into every aspect of our lives. Its avaricious quest to "serve the customer" has me scared.
I don't want Amazon to be the sole source for everything that I eat, wear and use. I don't want Amazon to run the world's computing infrastructure. I don't want Amazon making and peddling movies. I don't want Amazon tech eavesdropping on my household conversations. I don't want Amazon owning telecommunications and fiber infrastructure, nor do I want it making phones. I don't wish to live in a nation that has to all intents become a giant, nationwide Amazon warehouse. And, this leads me to the company's latest crazy idea.
The company was granted patent #9,305,280 in April 2016 for an "airborne fulfillment center utilizing unmanned aerial vehicles for item delivery". You got it: a flying warehouse stocked full of goodies hovering over your neighborhood armed and ready to launch your favorite washing detergent, a pair of Zappos shoes, diapers and a salame to your doorstep via missile drone.
Apparently the proposed airborne fulfillment center (AFC) "may be an airship that remains at a high altitude (e.g., 45,000 feet)". Not surprisingly, the AFC mothership will use unmanned aerial vehicles (UAV) — drones — "to deliver ordered items to user designated delivery locations". But, in addition, the patent filing suggests that "shuttles (smaller airships) may be used to replenish the AFC with inventory, UAVs, supplies, fuel, etc. Likewise, the shuttles may be utilized to transport workers to and from the AFC". The proposed airship will also deliver customized airborne advertising tied to its inventory enabling on-the-fly (pun intended) product promotions and fulfillment.
As Annalee Newitz, Tech Culture Editor, over at ars technica remarks, "sounds like something out of a Philip K. Dick novel". Yes, and while Dick's many novels were gloriously imagined, we don't necessarily need them to enter the real world. Please let our androids continue dreaming (of electric sheep).
Image: Figure 2 from Amazon's patent for an airborne fulfillment center utilizing unmanned aerial vehicles for item delivery. US patent #9305280. Courtesy: USPTO. Public Domain.