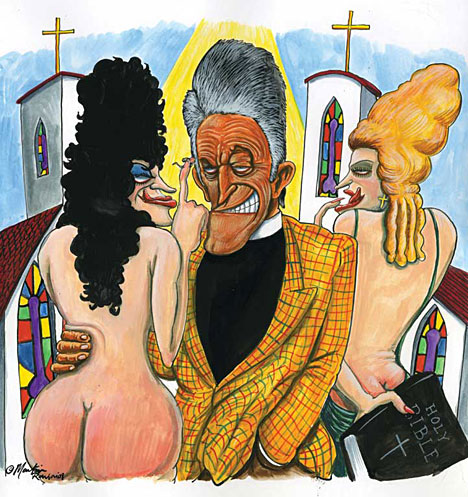 [div class=attrib]From Eurozine:[end-div]
Having condemned hyper-sexualized culture, the American religious Right is now wildly pro-sex, as long as it is marital sex. By replacing the language of morality with the secular notion of self-esteem, repression has found its way back onto school curricula – to the detriment of girls and women in particular. "We are living through an assault on female sexual independence", writes Dagmar Herzog.
"Waves of pleasure flow over me; it feels like sliding down a mountain waterfall," rhapsodises one delighted woman. Another recalls: "It's like having a million tiny pleasure balloons explode inside of me all at once."
These descriptions come not from Cosmopolitan, not from an erotic website, not from a Black Lace novel and certainly not from a porn channel. They are, believe it or not, part of the new philosophy of the Religious Right in America. We've always known that sex sells. Well, now it's being used to sell both God and the Republicans in one extremely suggestive package. And in dressing up the old repressive values in fishnet stockings and flouncy lingerie, the forces of conservatism have beaten the liberals at their own game.
Choose almost any sex-related issue. From pornography and sex education to reproductive rights and treatment for sexually transmitted diseases, Americans have allowed a conservative religious movement not only to dictate the terms of conversation but also to change the nation's laws and public health policies. And meanwhile American liberals have remained defensive and tongue-tied.
So how did the Religious Right – that avid and vocal movement of politicised conservative evangelical Protestants (joined together also with a growing number of conservative Catholics) – manage so effectively to harness what has traditionally been the province of the permissive left?
Quite simply, it has changed tactics and is now going out of its way to assert, loudly and enthusiastically, that, in contrast to what is generally believed, it is far from being sexually uptight. On the contrary, it is wildly pro-sex, provided it's marital sex. Evangelical conservatives in particular have begun not only to rail against the evils of sexual misery within marriage (and the way far too many wives feel like not much more than sperm depots for insensitive, emotionally absent husbands), but also, in the most graphically detailed, explicit terms, to eulogise about the prospect of ecstasy.
[div class=attrib]More from theSource here.[end-div]