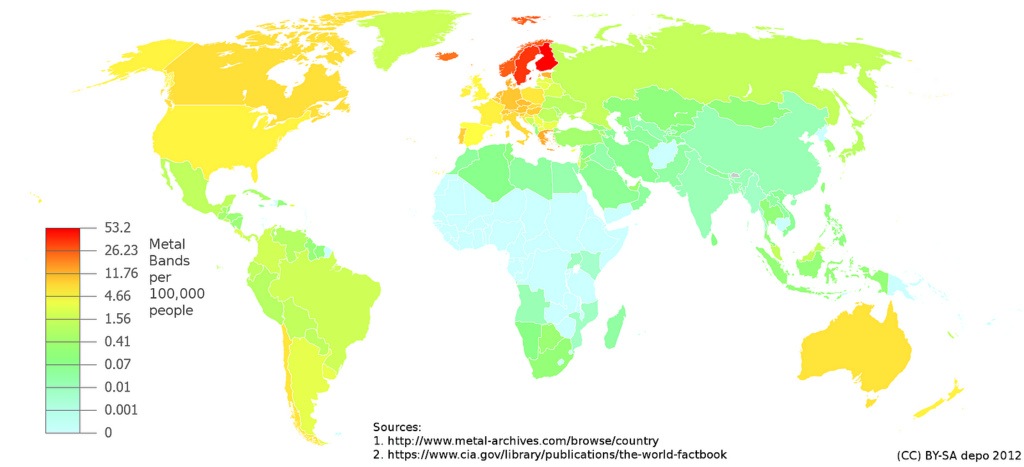 Heavy Metal in the musical sense, not as in elements, such as iron or manganese, is really popular in Finland and Iceland. It even pops up in Iran and Saudia Arabia.
[div class=attrib]Frank Jacobs over at Strange Maps tells us more.[end-div]
This map reflects the number of heavy metal bands per 100,000 inhabitants for each country in the world. It codes the result on a colour temperature scale, with blue indicating low occurrence, and red high occurrence. The data for this map is taken from the extensive Encyclopaedia Metallum, an online archive of metal music that lists bands per country, and provides some background by listing their subgenre (Progressive Death Metal, Symphonic Gothic Metal, Groove Metal, etc).
Even if you barely know your Def Leppard from your Deep Purple, you won't be surprised by the obvious point of this map: Scandinavia is the world capital of heavy metal music. Leaders of the pack are Finland and Sweden, coloured with the hottest shade of red. With 2,825 metal bands listed in the Encyclopaedia Metallum, the figure for Finland works out to 54.3 bands per 100,000 Finns (for a total of 5.2 million inhabitants). Second is Sweden, with a whopping 3,398 band entries. For 9.1 million Swedes, that amounts to 37.3 metal bands per 100,000 inhabitants.
The next-hottest shade of red is coloured in by Norway and Iceland. The Icelandic situation is interesting: with only 71 bands listed, the country seems not particulary metal-oriented. But the total population of the North Atlantic island is a mere 313,000. Which produces a result of 22.6 metal bands per 100,000 inhabitants. That's almost the double, relatively speaking, of Denmark, which has a score of 12.9 (708 metal bands for 5.5 million Danes)
The following shades of colour, from dark orange to light yellow, are almost all found in North America, Europe and Australasia. A notable addition to this list of usual suspects are Israel, and the three countries of Latin America's Southern Cone: Chile, Argentina and Uruguay.
Some interesting variations in Europe: Portugal is much darker – i.e. much more metal-oriented – than its Iberian neighbour Spain, and Greece is a solid southern outpost of metal on an otherwise wishy-washy Balkan Peninsula.
On the other side of the scale, light blue indicates the worst – or at least loneliest – places to be a metal fan: Papua New Guinea, North Korea, Cambodia, Afghanistan, Yemen, and most of Africa outside its northern and southern fringe. According to the Encyclopaedia Metallum, there isn't a single metal band in any of those countries.
[div class=attrib]Read the entire article after the jump.[end-div]