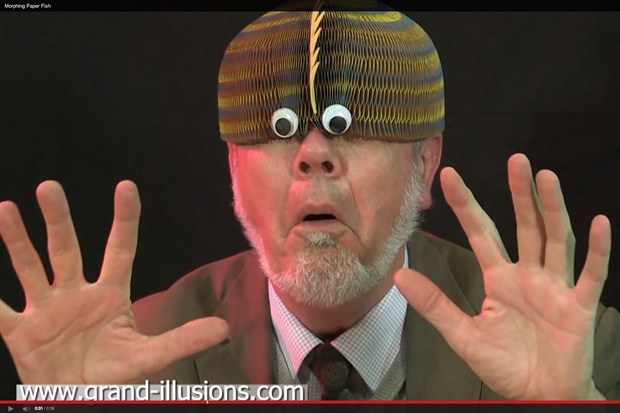 We are all children at heart. Unfortunately many of us are taught to suppress or abandon our dreams and creativity as a prerequisite for entering adulthood. However, a few manage to keep the wonder of their inner child alive.
Tim Rowett is one such person; through his toys he brings smiles and re-awakens memories in many of us who have since forgotten how to play and imagine. Though, I would take issue with Wired's characterization of Mr.Rowett as an "eccentric". Eccentricity is not a label that I'd apply to a person who remains true to his or her earlier self.
From Wired (UK):
When Wired.co.uk visited Tim Rowett's flat in Twickenham, nothing had quite prepared us for the cabinet of curiosities we found ourselves walking into. Old suitcases overflowing with toys and knick-knacks were meticulously labelled, dated and stacked on top of one another from room to room, floor to ceiling. Every bookshelf, corner and cupboard had been stripped of whatever its original purpose might have been, and replaced with the task of storing Tim's 25,000 toys, which he's been collecting for over 50 years.
For the last five years Tim has been entertaining a vast and varied audience of millions on YouTube, becoming a perhaps surprising viral success. Taking a small selection of his toys each week to and from a studio in Buckinghamshire — which also happens to be an 18th century barn — he's steadily built up a following of the curious, the charmed and the fanatic.
If you're a regular user of Reddit, or perhaps occasionally find yourself in "the weird place" on YouTube after one too many clicks through the website's dubious "related videos" section, then you've probably already come across Tim in one form or another. With more than 28 million views and hundreds of thousands of subscribers, he's certainly no small presence.
You won't know him as Tim, though. In fact, unless you've deliberately gone out of your way, you won't know very much about Tim at all — he's a private man, who's far more interested in entertaining and educating viewers with his endless collection of toys and gadgets, which often have mathematically or scientifically curious fundamental principles, than he is in bothering you with fussy details like his full name.
Greeted with a warm and familiar hello, Tim offered us a cup of tea, a biscuit and and a seat by the fire. "Toys, everywhere, toys." He said, looking round the room as he sat down. "I see myself as an hourglass. A large part of me is 112, a small part is my physical age and the last part is a 12-year-old boy."
This unique mix of old and new — both literally and figuratively — certainly displays itself in his videos, of which there are upwards of 500 at rarely no more than 10 minutes in length. The formula is refreshingly simple. Tim sits at a table, demonstrates how a particular toy works, and provides background information to the piece before explaining how the mechanism inside (if it has one) functions — a particular delight for the scientifically-minded collector: "The mechanism is the key thing" he explained, "and some of them are quite remarkable. If a child breaks a toy I often think 'oh wonderful' because it means I can get into it."
The apparently simple facade of the show is slightly deceptive however — Tim works with two ex-BBC producers: Hendrik Ball and George Auckland, who are responsible for editing and filming the videos. Hendrik's passion for science (fuelled by his BSc at Bristol) ultimately landed him a job as a producer at the BBC, which he kept for 25 years, specialising in science and educational material. Hendrik has his own remarkable history in tech, having written the first website for the BBC that ever accompanied a television programme (called Multimedia Business), back in 1996, making him and George "a little nucleus of knowledge of multimedia in our department at that time".
With few opportunities presenting themselves at the BBC to expand their newly developed skills in HTML, the two hatched a plan to create a website called Grand Illusions, which would not only sell many of the various toys and gadgets Tim came across in his collection, but would also experiment with video, with Tim as the presenter: "George and I wanted to get some more first-hand experience of running a website which would feed into our BBC work." Said Hendrik, "so we had this idea, which closely involved a bottle of Rioja — wilder rumours say there were two bottles — and we came up with Grand Illusions. Within about a week we'd finished the website and at one point we were getting more hits than the BBC education website."
Having only spent two hours with Tim, it's clear why Hendrik and George were so keen to get him in front of the camera. During our time together, Tim played up to his role as the restless prestidigitator, which has afforded him such great success online — "I'm a child philosopher" he said, as he waved a parallax-inspired business card in front of us.  "You can either explore the world outside, as people do," he placed a tiny cylindrical metal tube in my hand, "or you can explore the world inside, which is equally meaningful in my mind — there are still dragons and dangers and treasures on the inside as well as the outside world." He then suggested throwing the cylinder in the air, and it burst into a large magic wand.
This constant conjuring was what initially piqued Hendrik's interest: "He's a master at it. Whenever he goes anywhere he'll have a few toys on him. If there's ever a lull he'll produce one and give a quick demonstration and then everyone wants a go but, just as the excitement is peaking, Tim will bring out the next one."
On one occasion, after a meal, Tim inflated a large balloon outside of a restaurant using a helium cylinder he stores in the boot of his car. He attached a sparkler to the balloon, lit it and then let the balloon float off into the sky. "It was an impressive end to the evening," says Hendrik.
When we asked Hendrik what he thought the appeal of Tim's channel was, on which nearly two million people have watched a video on Japanese zip bags and a further million on a spinning gun, he stressed that sometimes his apparent innocence worked in their favour. "Tim produced a toy some while ago, which looked like a revolver but in black rubber. It has a wire coming out of it and there's a battery at the other end — when you press a button the end of the revolver sort of wiggles," says Hendrik, who assures us that Tim bought this from a toy shop and has the original packaging to prove it. He also bought a rather large rubbery heart, which kind of throbs when you push a button.
Read the entire story here.
Image: Tim Rowett / Grand Illusions. Courtesy of Wired UK.