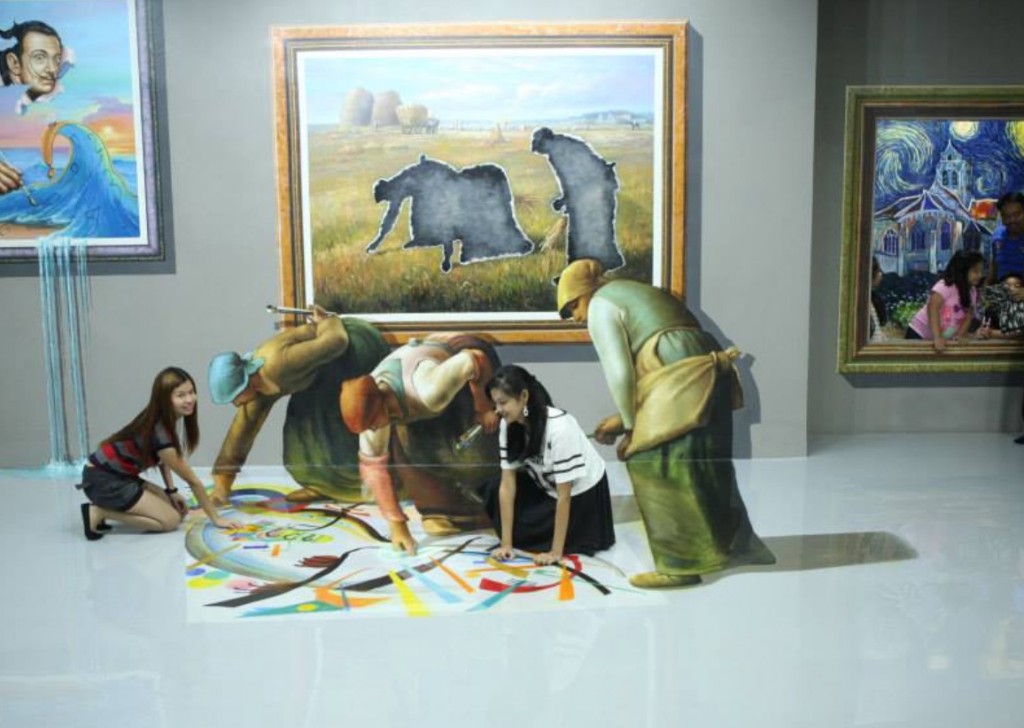 The smartphone and its partner in crime, the online social network, begat the ubiquitous selfie. The selfie begat the self-stick. And, now we have the selfie museum. This is not an April Fool's prank. Quite the contrary.
The Art in Island museum in Manila is making the selfie part of the visitor experience. Despite the obvious crassness, it may usher in a way for this and other museums to engage with their visitors more personally, and for visitors to connect with art more intimately. Let's face it, if you ever try to pull a selfie-like stunt, or even take a photo, in the Louvre or the Prado galleries you would be escorted rather promptly to the nearest padded cell.
From the Guardian:
Selfiemania in art galleries has reached new heights of surreal comedy at a museum in Manila. Art in Island is a museum specifically designed for taking selfies, with "paintings" you can touch, or even step inside, and unlimited, unhindered photo opportunities. It is full of 3D reproductions of famous paintings that are designed to offer the wackiest possible selfie poses.
Meanwhile, traditional museums are adopting diverse approaches to the mania for narcissistic photography. I have recently visited museums with wildly contrasting policies on picture taking. At the Prado in Madrid, all photography is banned. Anything goes? No, nothing goes. Guards leap on anyone wielding a camera.
At the Musée d'Orsay in Paris photography is a free-for-all. Even selfie sticks are allowed. I watched a woman elaborately pose in front of Manet's Le Déjeuner sur l'herbe so she could photograph herself with her daft selfie stick. This ostentatious technology turns holiday snaps into a kind of performance art. That is what the Manila museum indulges.
My instincts are to ban selfie sticks, selfies, cameras and phones from museums. But my instincts are almost certanly wrong.
Surely the bizarre selfie museum in Manila is a warning to museums, such as New York's MoMA, that seek to ban, at the very least, selfie sticks – let alone photography itself. If you frustrate selfie enthusiasts, they may just create their own simulated galleries with phoney art that's "fun" – or stop going to art galleries entirely.
It is better for photo fans to be inside real art museums, looking – however briefly – at actual art than to create elitist barriers between museums and the children of the digital age.
The lure of the selfie stick, which has caused such a flurry of anxiety at museums, is exaggerated. It really is a specialist device for the hardcore selfie lover. At the Musée d'Orsay there are no prohibitions, but only that one visitor, in front of the Manet, out of all the thousands was actually using a selfie stick.
And there's another reason to go easy on selfies in museums, however irritating such low-attention-span, superficial behaviour in front of masterpieces may be.
Read the entire story here.
Image: Jean-François Millet's gleaners break out of his canvas. The original, The Gleaners (Des glaneuses) was completed in 1857. Courtesy of Art in Island Museum. Manila, Philippines.