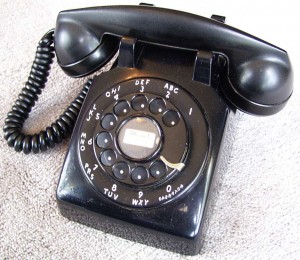 Read the following sentence and you'll conclude that this person is stark-raving-mad.
Writer Jenna Woginrich jettisoned her smartphone and lived 18 months without mobile calls and without texting, status updates and alerts.
Now read her complete story, excerpted below, and you'll realize that after 18 months without a smartphone she is perfectly sane, more balanced, less stressed and generally more human.
From Jenna Woginrich via the Guardian:
The phone rings: it's my friend checking to see if I can pick her up on the way to a dinner party. I ask her where she is and as she explains, I reach as far as I can across the countertop for a pen. I scribble the address in my trusty notebook I keep in my back pocket. I tell her I'll be at her place in about 20 minutes, give or take a few. Then I hang up. Literally.
I physically take the handset receiver away from my ear and hang it on the weight-triggered click switch that cuts off my landline's dial tone.
I take my laptop, Google the address, add better directions to my notes and head outside to my 1989 pick-up truck (whose most recent technological feature is a cassette player) and drive over. If I get lost on the way, I'll need to ask someone for directions. If she changes her plans, she won't be able to tell me or cancel at a moment's notice. If I crash on the way, I won't be calling 911.
I'm fine with all of this. As you guessed by now, I haven't had a cellphone for more than 18 months.
I didn't just cancel cellular service and keep the smartphone for Wi-Fi fun, nor did I downgrade to a flip phone to "simplify"; I opted out entirely. There is no mobile phone in my life, in any form, at all.
Arguably, there should be. I'm a freelance writer and graphic designer with many reasons to have a little computer in my holster, but I don't miss it. There are a dozen ways to contact me between email and social media. When I check in, it's on my terms. No one can interrupt my bad singing of Hooked on a Feeling with a text message. It's as freeing as the first night of a vacation.
"My phone" has become "the phone". It's no longer my personal assistant; it has reverted back to being a piece of furniture – like "the fridge" or "the couch", two other items you also wouldn't carry around on your butt.
I didn't get rid of it for some hipster-inspired luddite ideal or because I couldn't afford it. I cut myself off because my life is better without a cellphone. I'm less distracted and less accessible, two things I didn't realize were far more important than instantly knowing how many movies Kevin Kline's been in since 2010 at a moment's notice. I can't be bothered unless I choose to be. It makes a woman feel rich.
Read the entire story here.
Image: Western Electric Model 5302 telephone Courtesy: ProhibitOnions, 2007 / Wikipedia. Public Domain.