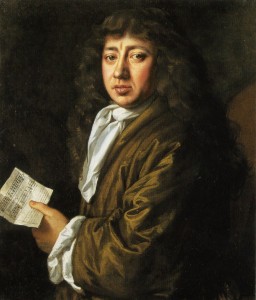 Is Nicolas Felton the Samuel Pepys of our digital age?
They both chronicled their observations over a period of 10 years, but separated by 345 years. However, that's where the similarity between the two men ends.
Samuel Pepys was a 17th century member of British Parliament and naval bureaucrat, famous for the decade-long private diary. Pepys kept detailed personal notes from 1660 to 1669. The diary was subsequently published in the 19th century, and is now regarded as one of the principal sources of information of the Restoration period (return of the monarchy under Charles II). Many a British school kid [myself included] has been exposed to Pepys' observations of momentous events, including his tales of the plague and the Great Fire of London.
Nicolas Felton a graphic designer and ex-Facebook employee cataloged his life from 2005 to 2015. Based in New York, Felton began obsessively recording the minutiae of his life in 2005. He first tracked his locations and time spent in each followed by his music-listening habits. Then he began counting his emails, correspondence, calendar entries, photos. Felton eventually compiled his detailed digital tracks into a visually fascinating annual Feltron Report.
So, Felton is certainly no Pepys, but his data trove remains interesting nonetheless — for different reasons. Pepys recorded history during a tumultuous time in England; his very rare, detailed first-person account across an entire decade has no parallel. His diary is now an invaluable literary chronicle for scholars and history buffs.
Our world is rather different today. Our technologies now enable institutions and individuals to record and relate their observations ad nauseam. Thus Felton's data is not unique per se, though his decade-long obsession certainly provides us with a quantitative trove of data, which is not necessarily useful to us for historical reasons, but more so for those who study our tracks and needs, and market to us.
Read Samuel Pepys diary here. Read more about Nicolas Felton here.
Image: Samuel Pepys by John Hayls, oil on canvas, 1666. National Portrait Gallery. Public Domain.