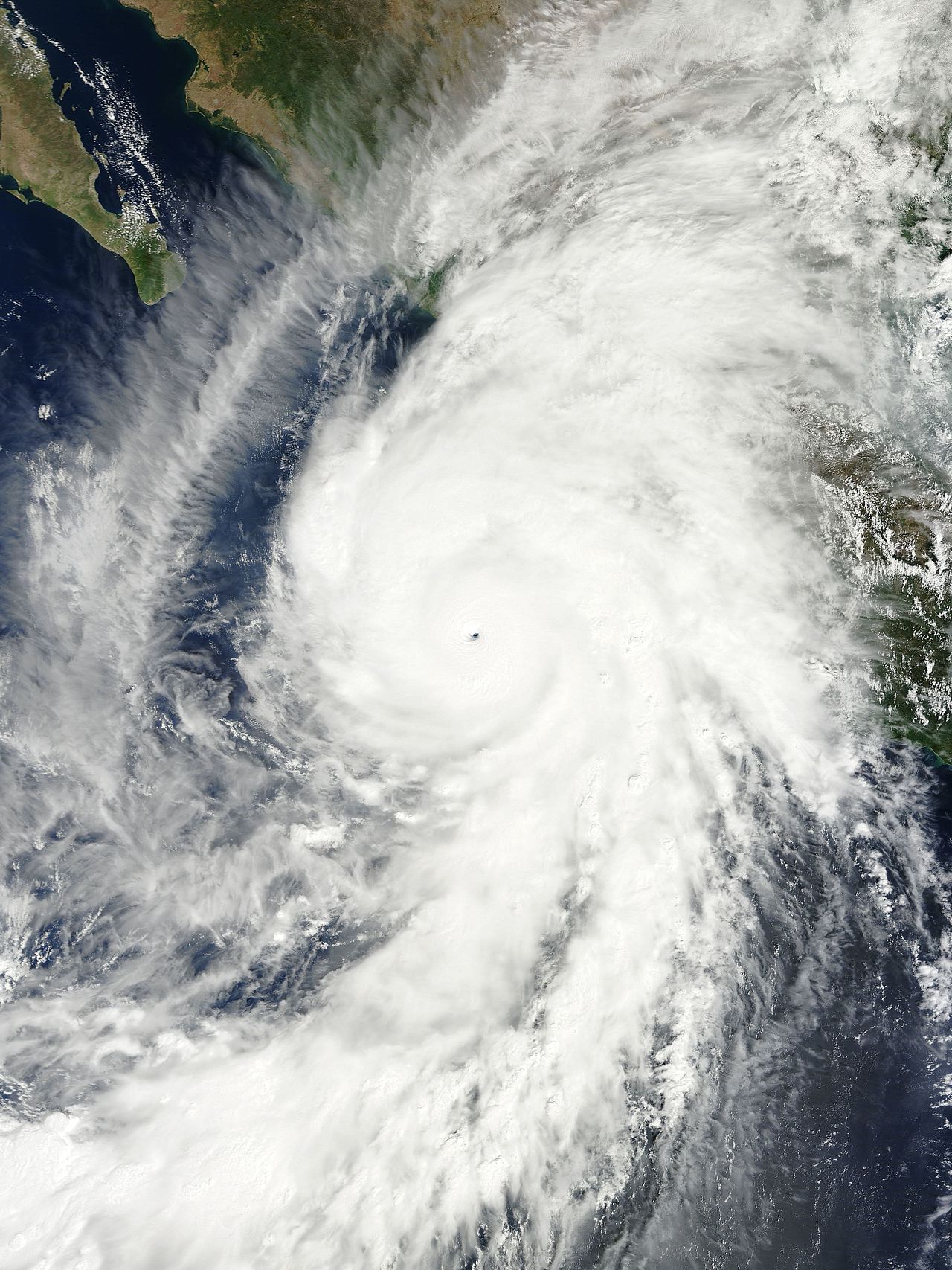 Amateur meteorologist that I am I wonder when my professional colleagues will extend the Saffir–Simpson hurricane wind scale (SSHWS). Currently the scale classifies hurricanes — western hemisphere tropical cyclones — on a scale of 1 to 5. Category 1 hurricanes encompass winds between 74-95 miles per hour; category 5 storms gyrate in excess of 157 miles per hour. As our global climate becomes increasingly warmer — which it is — our weather is becoming increasingly more volatile and extreme — longer hotter droughts, greater torrential rainfall, higher floods.
Category 5 will soon need to be supplemented. After all, the recent storm to hit the Pacific coast of Mexico — hurricane Patricia — reached sustained winds of 201 miles per hour; Typhoon Haiyan had a top wind spend of only 195 mph when it slammed the Phillippines in 2013 killing over 7,000 residents.
From the NYT:
Hurricane Patricia was a surprise. The eastern Pacific hurricane strengthened explosively before hitting the coast of Mexico, far exceeding projections of scientists who study such storms.
And while the storm's strength dissipated quickly when it struck land, a question remained. What made it such a monster?
Explanations were all over the map, with theories that included climate change (or not), and El Niño.
But the answer is more complicated. The interplay of all the different kinds of warming going on in the Pacific at the moment can be difficult to sort out and, as with the recent hurricane, attributing a weather event to a single cause is unrealistic.
Gabriel Vecchi, head of the climate variations and predictability group at the geophysical fluid dynamics laboratory of the National Oceanic and Atmospheric Administration in Princeton, N.J., likened the challenge to the board game Clue.
"There's all these suspects, and we have them all in the room right now," he said. "The key is to go and systematically figure out who was where and when, so we can exclude people or phenomena." Extending the metaphor, he noted that criminal suspects could work together as accomplices, and there could be a character not yet known. And, as in all mysteries, "You can have a twist ending."
At the moment, the world's largest ocean is a troublesome place, creating storms and causing problems for people and marine life across the Pacific Rim and beyond. A partial list includes the strong El Niño system that has formed along the Equator, and another unusually persistent zone of warm water that has been sitting off the North American coast, wryly called "the Blob."
And a longer-term cycle of heating and cooling known as the Pacific Decadal Oscillation may be switching from a cooling phase to a warming phase. On top of all that is the grinding progress of climate change, caused by accumulation of greenhouse gases generated by human activity.
Each of these phenomena operates on a different time scale, but for now they appear to be synchronized, a little like the way the second hand, minute hand and hour hand line up at the stroke of midnight. And the collective effects could be very powerful.
Read the entire story here.
Image: Hurricane Patricia at peak intensity and approaching the Western Mexico on October 23, 2015. Courtesy: MODIS image, NASA's Terra satellite. Public Domain.