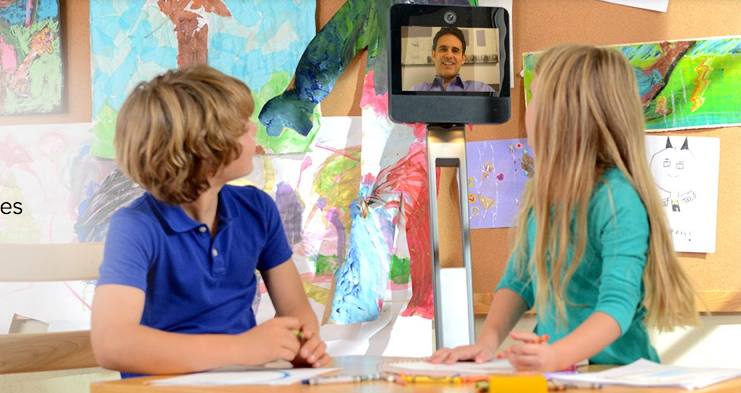 Telepresence devices and systems made some ripples in the vast oceans of new technology at the recent CES (Consumer Electronics Show) in Las Vegas. Telepresence allows anyone armed with an internet-connected camera to beam themselves elsewhere with the aid of a remote controlled screen on wheels. Some clinics and workplaces have experimented with the technology, allowing medical staff and workers to be virtually present in one location while being physically remote. Now, a handful of innovators are experimenting with telepresence for the home market.
So, sick of being around the kids, or need to see grandma but can't get away from the office? Or, even better, buy buy one for your office so you can replace yourself with a robot, work from home and never visit the workplace again. Well, a telepresence robot for a mere $1,000 may be a very sound investment.
Sounds great, but where is the robot that will tidy, clean, dust, cook, repair, mow, launder…
From Technology Review:
When Scott Hassan went to Las Vegas for the International Consumer Electronics Show last week, he was still able to get the kids up in the morning and help them make breakfast at his California home. Hassan used a remote-controlled screen on wheels to spend time with his family, and today his company, Suitable Technologies, started taking orders for Beam+, a version of the same telepresence technology aimed at home users. This summer, it will also be available via Amazon and other retailers.
Hassan thinks the Beam+, essentially a 10-inch screen and camera mounted on wheels, will be popular with other businesspeople who want to spend more time with their kids, or those with aging parents they'd like to check up on more often.
Hassan says a person "visiting" aging parents this way could check up on them less obtrusively than via phone, for example by walking around to look for signs they'd taken their medication rather than bluntly asking, or watching to check that they take their pills with their meal. "For people with dementia or Alzheimer's, I think that being able to see and hear and walk around with a familiar face is a lot better than just a phone call," he says. "You could also just Beam in and watch Jeopardy! with your grandmother on TV."
The Beam+ is designed so that once installed in a home, anyone with the login credentials can bring it to life and start moving around. The operator's interface shows the view from a camera over the screen, as well as a smaller view looking down toward the unit's base to aid maneuvering. A user drives it by moving a mouse over their view and clicking where they want to go.
The first 1,000 units of the Beam+ can be preordered for $995, with later units expected to costs $1,995. Both prices include the charging dock to which the device must return every two hours. The exterior design of the Beam+ was created by Fred Bould, who designed the Nest thermostat, among other gadgets.
The Beam+ is a cheaper, smaller, and restyled version of the company's first product, known as the Beam, which is aimed at corporate users (see "Beam Yourself to Work in a Remote-Controlled Body").
Intel, IBM, and Square all use Beam's original product to give employees an option somewhere between a conventional video chat and an in-person visit when working with colleagues in distant offices. Hassan says interest has come from more than just technology companies, though. In Vegas he sold two Beam devices to a restaurant owner planning to use them as street barkers; meanwhile, a real-estate agency in California's Lake Tahoe has started using them to show people around luxury condos.
Several startups and large companies, such as iRobot, which created the Roomba robotic vacuum cleaner, have launched mobile telepresence devices in recent years. However, despite it being clear that many people wish they could travel more easily in their professional and personal lives, the devices have sometimes been clunky (see "The New, More Awkward You") and remain relatively expensive.
Read the entire article here.
Image: Beam+. Courtesy of Suitable Technologies, inc.