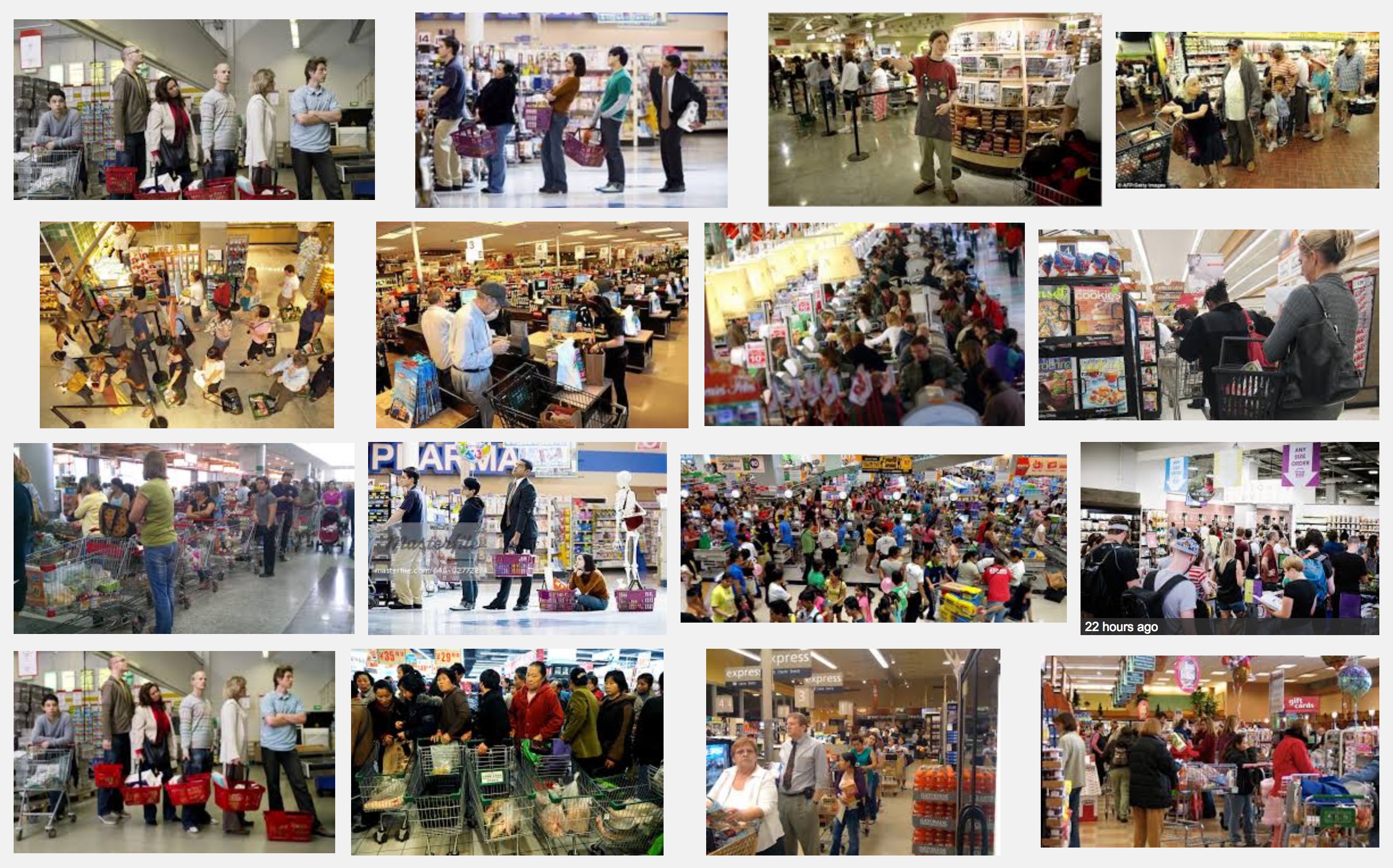 There is a strategy to picking the quickest line (queue) when checking out at the grocery store (supermarket). It includes one several seemingly counter-intuitive recommendation: get behind a shopper with a full cart (trolley). Other recommendations include: go left; pick female cashiers; and, evaluate the customers ahead of you.
From NYT:
You dash into the supermarket for a few necessities. You figure it will be 10 minutes — tops — before you are done and on your way home.
Then you get to the checkout lanes and they are brimming with shoppers. Your plan for a quick exit begins to evaporate.
But all is not lost.
For anyone who has ever had to stand in line (or if you are a New Yorker, you stand on line) at a supermarket, retailer, bank or anywhere else, here are some tips from experts for picking the line that will move the fastest.
Get behind a shopper who has a full cart
That may seem counterintuitive, but data tell a different story, said Dan Meyer, a former high school math teacher who is the chief academic officer at Desmos, where he explores the future of math, technology and learning.
"Every person requires a fixed amount of time to say hello, pay, say goodbye and clear out of the lane," he said in an email. His research found all of that takes an average of 41 seconds per person and items to be rung up take about three seconds each.
That means getting in line with numerous people who have fewer things can be a poor choice.
Think of it this way: One person with 100 items to be rung up will take an average of almost six minutes to process. If you get in a line with four people who each have 20 items, it will take an average of nearly seven minutes.
Those minutes add up. Richard Larson, a Massachusetts Institute of Technology professor who is considered the foremost expert on queues, estimated that Americans spend 37 billion hours a year waiting in lines.
Go left for faster service
Robert Samuel, founder of Same Ole Line Dudes, a New York-based service that will stand in line for you, said in an email that most people are right-handed and tend to veer to the right.
Look for female cashiers
"This may seem sexist, but I prefer female cashiers," Mr. Samuel wrote. "In my experience they seem to be the most expedient at register transactions and processing."
A. J. Marsden, an assistant professor of human services and psychology at Beacon College in Leesburg, Fla., suggested checking to see if a cashier was talkative and commenting on every item being scanned. If so, avoid this line "unless there is no one in that line, in which case, just deal with the chatty cashier," she said in an email.
Read the entire article here.
Image courtesy of Google Search.