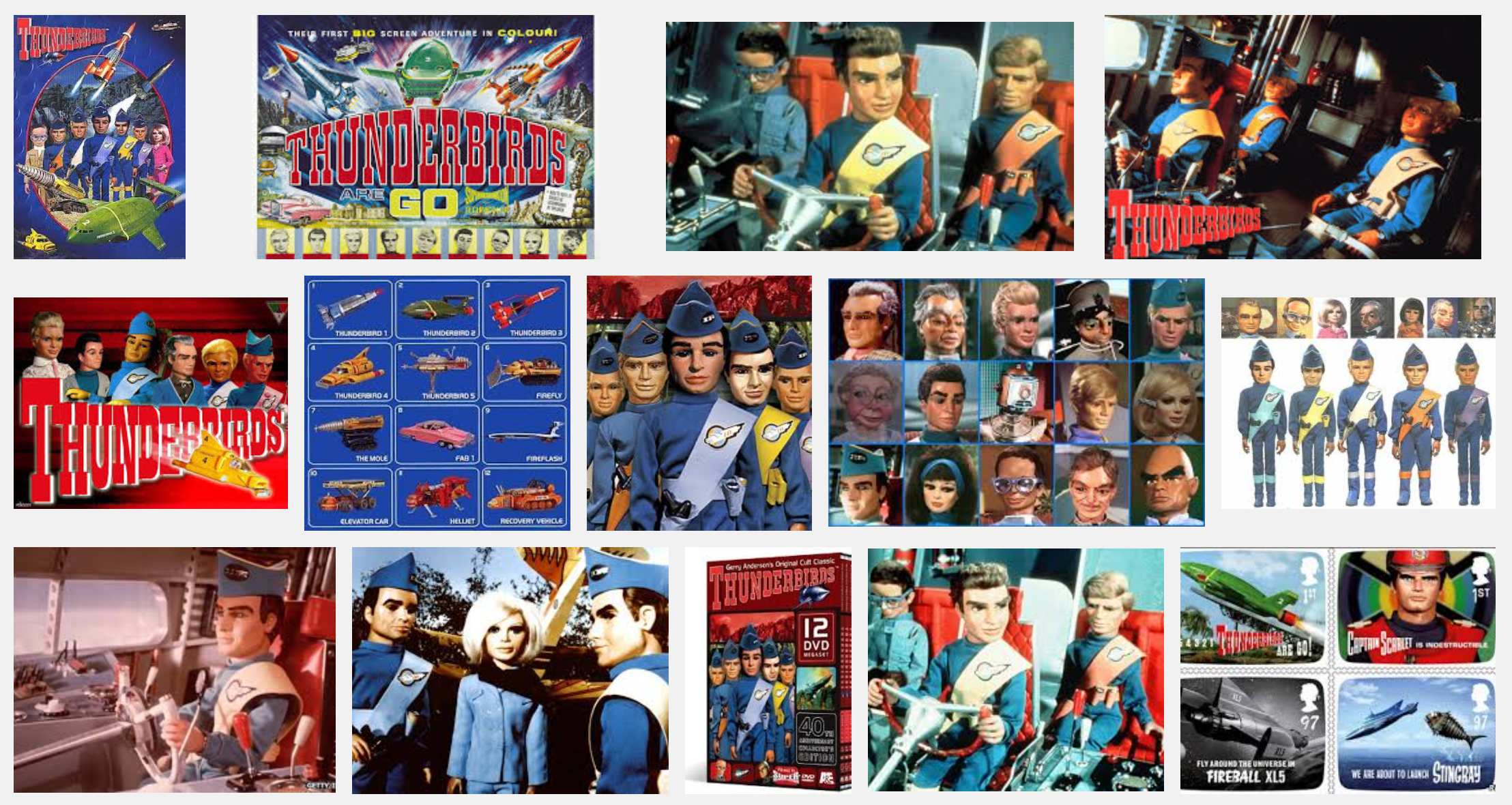 Beneath the shell that envelops us as adults lies the child. We all have one inside — that vulnerable being who dreams, plays and improvises. Sadly, our contemporary society does a wonderful job of selectively numbing these traits, usually as soon as we enter school; our work finishes the process by quashing all remnants of our once colorful and unbounded imaginations. OK, I'm exaggerating a little to make my point. But I'm certain this strikes a chord.
Keeping this in mind, it's awesomely brilliant to see Thunderbirds making a comeback. You may recall the original Thunderbirds TV shows in the mid-sixties. Created by Gerry and Sylvia Anderson, the marionette puppets and their International Rescue science-fiction machines would save us weekly from the forces of evil, destruction and chaos. The child who lurks within me utterly loved this show — everything would come to a halt to make way for this event on saturday mornings. Now I have a chance of reliving it with my kids, and maintaining some degree of childhood wonder in the process. Thunderbirds are go…
From the Guardian:
5, 4, 3, 2, 1 … Thunderbirds are go – but not quite how older viewers will remember. International Rescue has been given a makeover for the modern age, with the Tracy brothers, Brains, Lady Penelope and Parker smarter, fitter and with better gadgets than they ever had when the "supermarionation" show began on ITV half a century ago.
But fans fearful that its return, complete with Hollywood star Rosamund Pike voicing Lady Penelope, will trample all over their childhood memories can rest easy.
Unlike the 2004 live action film which Thunderbirds creator, the late Gerry Anderson, described as the "biggest load of crap I have ever seen in my life", the new take on the children's favourite, called Thunderbirds Are Go, remains remarkably true to the spirit of the 50-year-old original.
Gone are the puppet strings – audience research found that younger viewers wanted something more dynamic – but along with computer generated effects are models and miniature sets ("actually rather huge" said executive producer Estelle Hughes) that faithfully recall the original Thunderbirds.
Speaking after the first screening of the new ITV series on Tuesday, executive producer Giles Ridge said: "We felt we should pay tribute to all those elements that made it special but at the same time update it so it's suitable and compelling for a modern audience.
"The basic DNA of the show – five young brothers on a secret hideaway island with the most fantastic craft you could imagine, helping people around the world who are in trouble, that's not a bad place to start."
The theme music is intact, albeit given a 21st century makeover, as is the Tracy Island setting – complete with the avenue of palm trees that makes way for Thunderbird 2 and the swimming pool that slides into the mountain for the launch of Thunderbird 1.
Lady Penelope – as voiced by Pike – still has a cut-glass accent and is entirely unflappable. When she is not saving the world she is visiting Buckingham Palace or attending receptions at 10 Downing Street. There is also a nod – blink and you miss it – to another Anderson puppet series, Stingray.
Graham, who voiced Parker in the original series, returns in the same role. "I think they were checking me out to see if I was still in one piece," said Graham, now 89, of the meeting when he was first approached to appear in the new series.
"I was absolutely thrilled to repeat the voice and character of Parker. Although I am older my voice hasn't changed too much over the years."
He said the voice of Parker had come from a wine waiter who used to work in the royal household, whom Anderson had taken him to see in a pub in Cookham, Berkshire.
"He came over and said, 'Would you like to see the wine list, sir?' And Parker was born. Thank you, old mate."
Brains, as voiced by Fonejacker star Kayvan Novak, now has an Indian accent.
Sylvia Anderson, Anderson's widow, who co-created the show, will make a guest appearance as Lady Penelope's "crazy aunt".
Read the entire story here.
Image courtesy of Google Search.