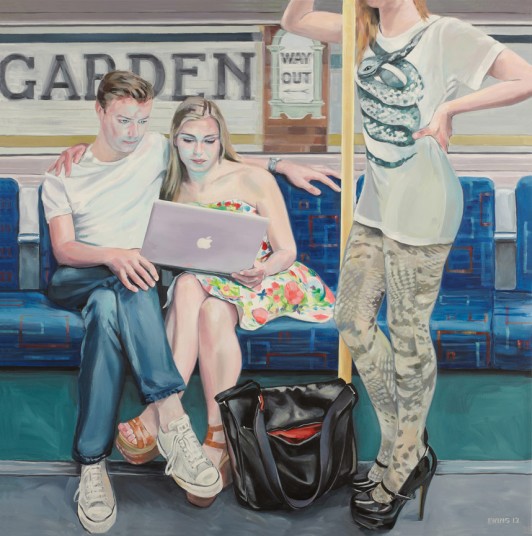 The tube is question here is not one containing an artist's oils or acrylics. And, neither is the tube the Google owned YouTube site. Rather, the tube, is The Tube — London's metropolitan subway system, also known as the underground. The paintings are part of an exhibit to honor the 150th anniversary of the initial opening of the, mostly, subterranean marvel.
From the Telegraph:
Artist Ewing Paddock has spent three years painting people travelling on the London Underground. The Tube is the place to observe Londoners in all their glorious diversity and Ewing wanted to try to capture some of that in the paintings and also the slightly secret voyeurism that most of us indulge in when watching, and wondering about, our fellow travellers under ground.
See all the wonderful paintings here.
Image: Adam, Eve. An old, old story, deep underground, by Ewing Paddock. Courtesy the Telegraph.