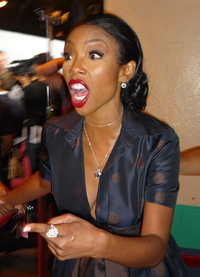 It turns out that creativity gets a boost from anger. While anger certainly is not beneficial in some contexts, researchers have found that angry people are more likely to be creative.
[div class=attrib]From Scientific American:[end-div]
This counterintuitive idea was pursued by researchers Matthijs Baas, Carsten De Dreu, and Bernard Nijstad in a series of studies  recently published in The Journal of Experimental Social Psychology. They found that angry people were more likely to be creative – though this advantage didn't last for long, as the taxing nature of anger eventually leveled out creativity. This study joins several recent lines of research exploring the relative upside to anger – the ways in which anger is not only less harmful than typically assumed, but may even be helpful (though perhaps in small doses).
In an initial study, the researchers found that feeling angry was indeed associated with brainstorming in a more unstructured manner, consistent with "creative" problem solving. In a second study, the researchers first elicited anger from the study participants (or sadness, or a non-emotional state) and then asked them to engage in a brainstorming session in which they generated ideas to preserve and improve the environment. In the beginning of this task, angry participants generated more ideas (by volume) and generated more original ideas (those thought of by less than 1 percent or less of the other participants), compared to the other sad or non-emotional participants. However, this benefit was only present in the beginning of the task, and eventually, the angry participants generated only as many ideas as the other participants.
These findings reported by Baas and colleagues make sense, given what we already know about anger. Though anger may be unpleasant to feel, it is associated with a variety of attributes that may facilitate creativity. First, anger is an energizing feeling, important for the sustained attention needed to solve problems creatively. Second, anger leads to more flexible, unstructured thought processes.
Anecdotal evidence from internal meetings at Apple certainly reinforces the notion that creativity may benefit from well-channeled anger. Apple is often cited as one of the wolrd's most creative companies.
[div class=attrib]From Jonah Lehred over at Wired:[end-div]
Many of my favorite Steve Jobs stories feature his anger, as he unleashes his incisive temper on those who fail to meet his incredibly high standards. A few months ago, Adam Lashinsky had a fascinating article in Fortune describing life inside the sanctum of 1 Infinite Loop. The article begins with the following scene:
In the summer of 2008, when Apple launched the first version of its iPhone that worked on third-generation mobile networks, it also debuted MobileMe, an e-mail system that was supposed to provide the seamless synchronization features that corporate users love about their BlackBerry smartphones. MobileMe was a dud. Users complained about lost e-mails, and syncing was spotty at best. Though reviewers gushed over the new iPhone, they panned the MobileMe service.
Steve Jobs doesn't tolerate duds. Shortly after the launch event, he summoned the MobileMe team, gathering them in the Town Hall auditorium in Building 4 of Apple's campus, the venue the company uses for intimate product unveilings for journalists. According to a participant in the meeting, Jobs walked in, clad in his trademark black mock turtleneck and blue jeans, clasped his hands together, and asked a simple question:
"Can anyone tell me what MobileMe is supposed to do?" Having received a satisfactory answer, he continued, "So why the fuck doesn't it do that?"
For the next half-hour Jobs berated the group. "You've tarnished Apple's reputation," he told them. "You should hate each other for having let each other down." The public humiliation particularly infuriated Jobs. Walt Mossberg, the influential Wall Street Journal gadget columnist, had panned MobileMe. "Mossberg, our friend, is no longer writing good things about us," Jobs said. On the spot, Jobs named a new executive to run the group.

Brutal, right? But those flashes of intolerant anger have always been an important part of Jobs' management approach. He isn't shy about the confrontation of failure and he doesn't hold back negative feedback. He is blunt at all costs, a cultural habit that has permeated the company. Jonathan Ive, the lead designer at Apple, describes the tenor of group meetings as "brutally critical."
[div class=attrib]More from theSource here and here.[end-div]
[div class=attrib]Image of Brandy Norwood, courtesy of Wikipedia / Creative Commons.[end-div]