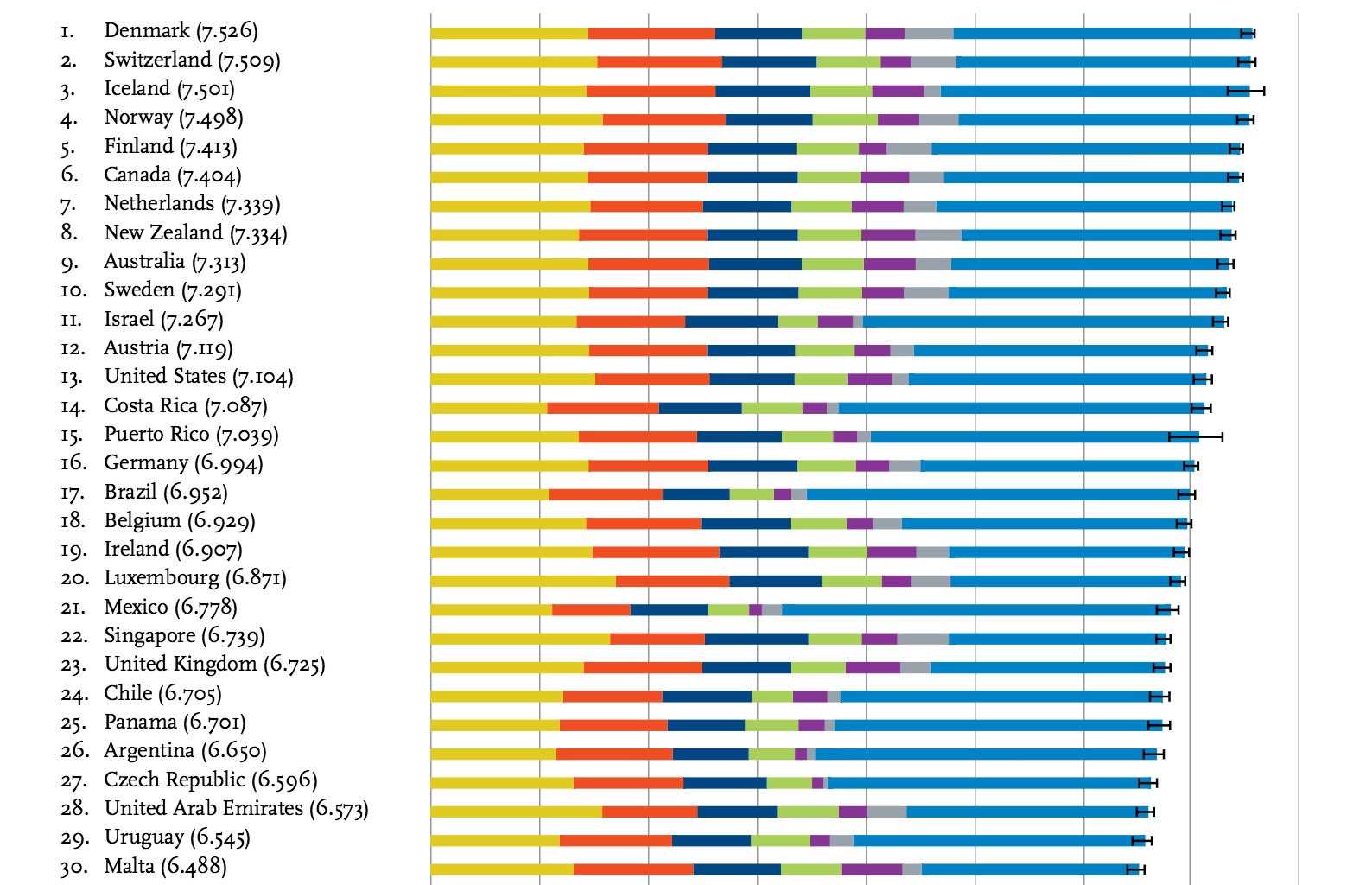 Yet again, nations covering the northern latitudes outrank all others on this year's global happiness scale. Not surprisingly, Denmark topped the happiness list in 2015, having secured the top spot since 2012, except for 2014 when it was pipped by Switzerland. The top 5 for 2015 are: Denmark, Iceland, Norway, Finland, and Canada.
The report finds that the happiest nations tend to be those with lower income disparity and strong national health and social safety programs. Ironically, richer nations, including the United States, tend to rank lower due to rising inequalities in income, wealth and health.
That said, the United States moved to No. 13, up two places from No. 15 the previous year. This is rather perplexing considering all the anger that we're hearing about during the relentless 2016 presidential election campaign.
At the bottom of the list of 157 nations is Burundi, recently torn by a violent political upheaval. The bottom five nations for 2015 are: Benin, Afghanistan, Togo, Syria and Burundi; all have recently suffered from war or disease or both.
The happiness score for each nation is based on multiple national surveys covering a number of criteria, which are aggregated into six key measures: GDP per capita, social support; healthy life expectancy; freedom to make life choices; generosity; and perceptions of corruption.
The World Happiness Report was prepared by the Sustainable Development Solutions Network, an international group of social scientists and public health experts under the auspices of the United Nations.
Read more on the report here.
Image: Top 30 nations ranked for happiness, screenshot. Courtesy: World Happiness Report, The Distribution of World Happiness, by John F. Helliwell, Canadian Institute for Advanced Research and Vancouver School of Economics, University of British Columbia; Haifang Huang, Department of Economics, University of Alberta; Shun Wang, KDI School of Public Policy and Management, South Korea.