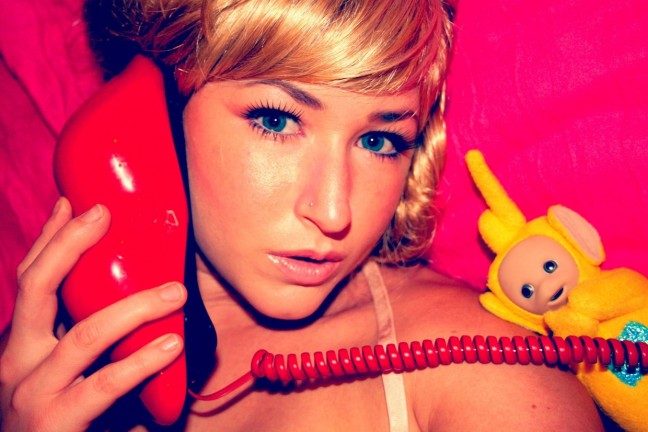 This is a compelling and sad story of people with ugly minds who have nothing better to do than demean others. The others in this story are those that pervade social media in search of attention and a modicum of self-esteem. Which group is in need of most in help? Well, you decide.
From Wired:
Live artist Louise Orwin has created a show—Pretty Ugly—based on her research into the phenomenon of teenage girls discussing body issues on social media.
"OK, guys, this is a serious matter… I want to know whether I'm pretty or not," says a teenage girl with a high-pitched voice and heavily made-up eyes going by the name of girlsite101.
She goes on to explain with pageant participant peppiness that her classmates say she is pretty and she "wins homecoming queen every year," but that she's not convinced. The only way to settle the situation is to ask the impartial commenters of YouTube.
The video has notched up more than 110,000 views and the comments are, frankly, brutal: "Bitch" and "You have an ugly personality and you're making this shit up. You're ugly" rank the highest. But there are many, many more: "You look like a bug!"; "You're ugly as fuck […] You might want to cover up that third eye you twig. And you're ears are fucking tiny. Like seriously, stick them up your ass. And stop telling lies"; "stupid slut"; "attention seeker"; "a pretty face destroyed by an ugly personality." There are 5,500 of these comments—the vast majority of them are negative.
Girlsite101's video is not a one-off. There are almost 600,000 results when you search for "am I pretty or ugly" on YouTube. It's this phenomenon that live artist Louise Orwin has set out to explore in a performance called Pretty Ugly.
Orwin's journey started when she came across the "Thinspiration" community on Tumblr, where pictures of slim women—ranging from the naturally slim to the emaciated—are shared as a source of inspiration for those trying to lose weight. "I got obsessed with the way these teenage girls were using Tumblr," she told Wired.co.uk. "I felt like Alice tumbling down the rabbit hole."
At the same time, Orwin was exploring how teenage girls use social media compared to the outlets she had as a teenager. "When I was a teenager I was writing in a diary; today teenagers are posting onto Tumblr."
"I was horrified by it"
During the course of her research, she chanced upon one of the aforementioned "am I pretty or ugly?" videos. "I saw a really young girl pouting and posing in front of the camera. Her language was something that struck me. It was really teenage language; she was talking about how boys at school were picking on her but there was one guy who fancied her and she didn't know why boys didn't like her," Orwin explains. The girl on camera then asked whether her audience thought she was pretty or ugly. "I was horrified by it," said Orwin. "Then you look at the comments below; they were horrific."
Orwin then spotted the many related videos alongside it. "The thing that struck me is that it seemed like a really brave thing to do. I couldn't imagine myself posting a video like that because I would have thought that she was opening herself up to a huge amount of criticism."
After trying to contact some of the girls who made the videos, Orwin decided to post some of her own. She came up with a number of teenage alter-egos: an emo girl called Becky, a nerdy girl called Amanda, and another character called Baby.
"I got torrents of abuse. People were telling me to fuck off and die," Orwin explained. The emo girl Becky was targeted particularly aggressively. Three weeks after the video was posted, there was a spike of interest and Orwin received 200 comment notifications. One of the comments said: "Your so fucking dumb, yes you are ugly, just because you made this shitty video I think your the ugliest cunt out, take off that eye shadow no girl ever can pull off that much especially not you, and if you really think being ugly is such a surprise to you, life is going to fucking suck for you."
"I woke up and read all of this abuse and I really felt it in my stomach. I had to remind myself that it's not me, it's the character."
Orwin makes a point about the characters being 15-years-old in her videos (she's actually 26), but that didn't stop her from receiving hundreds of private messages, the vast majority from men, many of which were asking for her to send more videos. One man said "I think ur pretty. Don't let anyone tell u any different OK. Can u do a dance vid so I can see more of sexy u?xx."
When Orwin sat down to analyze the comments and messages she had received on her videos, she found that 70 percent of the feedback was from men, "and most of them were definitely over 18." Most of the women who commented were under 18.
One commenter who stood out for Orwin was a user called RookhKshatriya, who wrote under Becky's video, "You're a 4 and without glasses you are a 5." The commenter is actually a London-based academic who works in education and calls himself an "anti-feminist," believing that the Anglo-American brand of feminism that emerged in the '60s has an ulterior misandrist agenda. You can check out his blog, Anglobitch, here. "He takes himself very seriously, but he's going on YouTube and rating 15-year-old girls," muses Orwin.
One of the things that intrigues Orwin about these videos is that they explore the idea of anonymity as well as performance. "Part of the reason that a lot of them post the videos is yes, they want to know whether they are pretty. But they also see the trend going round and it's just another subject to make a video on. Which is strange."
Orwin's show, Pretty Ugly, follows the trail of her research, looking at the relationships Becky, Amanda, and Baby have with their commenters and the people who messaged them. "Conversations with trolls, friendships… it also covers all the creepy side of it," she explains.
The show starts with Orwin asking the audience the central question: do they think she is pretty or ugly. "I need to show how irrelevant that question should be. Would you go up to a person on the street and ask them that? I am trying to make this anonymous world into a live face-to-face world."
Orwin is particularly struck by the way digital media is changing the way we perceive ourselves and each other. "And what does it mean for feminism today?"
When she compares her own teenage years to those being lived out today, she says she remembers getting to a certain age when people were starting to talk about the pressures of the media, which was selling unattainable images of perfection and beauty. "But it was about the media. Now if you look on Tumblr, YouTube, Twitter, it's not the media, but the teenage girls themselves perpetuating this myth. They are resharing these images, reblogging. There's always going to be peer pressure but I think [social media] makes these issues worse."
Read the entire article here.