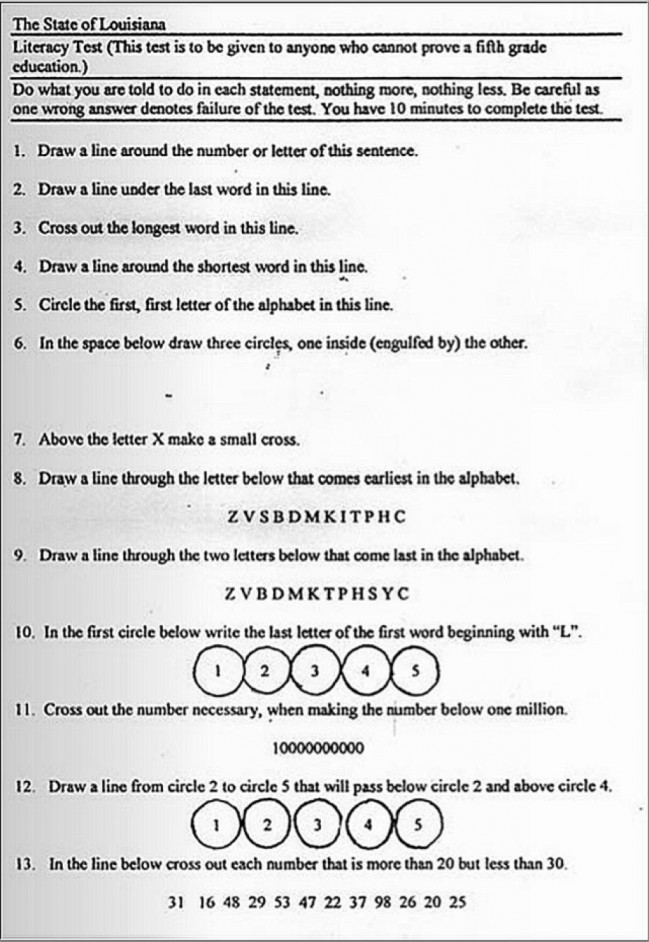 Voting is a right in the United States. But, as we know in the past this did not stop those in power from restricting those rights for many less fortunate or those having a different skin color (or gender). Some still justifiably maintain that voting rights are curtailed in some instances.
Louisiana in 1964 required voters to jump through some very high hurdles before they could even come close to a ballot box. The Louisiana State Literacy Test barred prospective from voters if they recorded even one wrong answer. So, just for fun take a look at the three pages of the test above and see if you'd qualify to vote in Louisiana. You have 10 minutes. Remember, one wrong answer and you're disenfranchised!
From Slate:
This week's Supreme Court decision in Shelby County v. Holder overturned Section 4(b) of the 1965 Voting Rights Act, which mandated federal oversight of changes in voting procedure in jurisdictions that have a history of using a "test or device" to impede enfranchisement. Here is one example of such a test, used in Louisiana in 1964.
After the end of the Civil War, would-be black voters in the South faced an array of disproportionate barriers to enfranchisement. The literacy test—supposedly applicable to both white and black prospective voters who couldn't prove a certain level of education but in actuality disproportionately administered to black voters—was a classic example of one of these barriers.
The website of the Civil Rights Movement Veterans, which collects materials related to civil rights, hosts a few samples of actual literacy tests used in Alabama, Louisiana, and Mississippi during the 1950s and 1960s.
In many cases, people working within the movement collected these in order to use them in voter education, which is how we ended up with this documentary evidence. Update: This test—a word-processed transcript of an original—was added by Jeff Schwartz, who worked with the Congress of Racial Equality in Plaquemines Parish, Louisiana, in the summer of 1964. Schwartz wrote about his encounters with the test in this blog post.
Most of the tests collected here are a battery of trivia questions related to civic procedure and citizenship. (Two from the Alabama test: "Name the attorney general of the United States" and "Can you be imprisoned, under Alabama law, for a debt?")
But this Louisiana "literacy" test, singular among its fellows, has nothing to do with citizenship. Designed to put the applicant through mental contortions, the test's questions are often confusingly worded. If some of them seem unanswerable, that effect was intentional. The (white) registrar would be the ultimate judge of whether an answer was correct.
Try this one: "Write every other word in this first line and print every third word in same line (original type smaller and first line ended at comma) but capitalize the fifth word that you write."
Or this: "Write right from the left to the right as you see it spelled here."
Read the entire article here.
Image: Louisiana Voter Literacy Test, circa 1964. Courtesy of the Civil Rights Movement Veterans website.