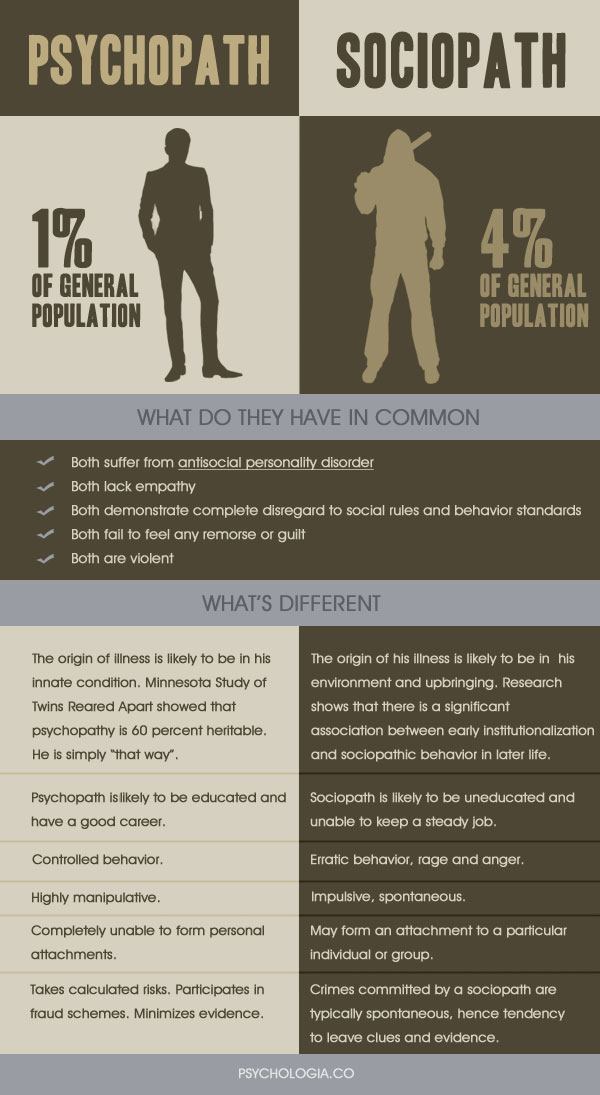 I've been writing for a while now about a certain person who wishes to become the next President of the United States. His name is Donald Trump. He carries with him an entire encyclopedia — no, bookshelves of encyclopedias — of negative character traits. But chief among these he lacks empathy, tends to feel no guilt or remorse, and disregards the needs and rights of others. These are traits common to both psychopaths and sociopaths.
Over the last few years I've been describing Mr. Trump as a psychopath. Others, particularly recently (here, here, here), characterize him as a sociopath. Who's right?
I'm turning to some psychological resources, excerpted and paraphrased below — American Psychological Association, Psychology Today, WebMD — to help me clarify the differences.
On first analysis it looks like Mr. Trump straddles both! Though I must say, that regardless, I don't want either a sociopath or a psychopath, or a psycho-sociopath or a socio-psychopath in the White House with fingers anywhere close to the nuclear codes.
Sociopath:
Sociopaths tend to be volatile. That is, they tend to be nervous and easily agitated or angered. They are volatile and prone to emotional outbursts, including fits of rage. In addition, they may be uneducated and live on the fringes of traditional society, unable to hold down a steady job or stay in one place for very long. They are frequently transients and drifters.
It is difficult but not impossible for sociopaths to form attachments with others. They are capable of bonding emotionally and demonstrating empathy with certain people in certain situations but not others. Many sociopaths have no regard for society in general or its rules. Sociopathy, on the other hand, is more likely the product of environmental influences ("nurture"), such as childhood trauma and physical/emotional abuse.
Psychopath:
Psychopaths are unable to form emotional attachments or feel real empathy with others, although they often have disarming or even charming personalities. Psychopaths are very manipulative and can easily gain people's trust. They learn to mimic emotions, despite their inability to actually feel them, and will appear normal to unsuspecting people. Psychopaths are often well educated and hold steady jobs. Some are so good at manipulation and mimicry that they have families and other long-term relationships without those around them ever suspecting their true nature.
It is believed that psychopathy is the largely the result of "nature" (genetics) and is related to a physiological defect that results in the underdevelopment of the part of the brain responsible for impulse control and emotions.
Infographic courtesy of Psychologia.