[div class=attrib]From The Guardian:[end-div]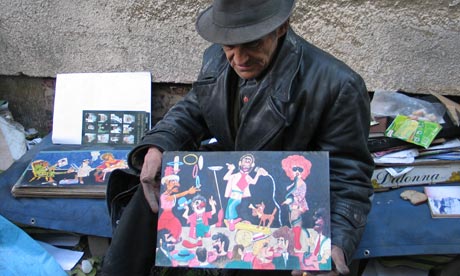 The guests were chic, the bordeaux was sipped with elegant restraint and the hostess was suitably glamorous in a ­canary yellow cocktail dress. To an outside observer who made it past the soirée privée sign on the door of the Anne de Villepoix gallery on Thursday night, it would have seemed the quintessential Parisian art viewing.
Yet that would been leaving one ­crucial factor out of the equation: the man whose creations the crowd had come to see. In his black cowboy hat and pressed white collar, Ion Barladeanu looked every inch the established artist as he showed guests around the exhibition. But until 2007 no one had ever seen his work, and until mid-2008 he was living in the rubbish tip of a Bucharest tower block.
Today, in the culmination of a dream for a Romanian who grew up adoring Gallic film stars and treasures a miniature Eiffel Tower he once found in a bin, ­Barladeanu will see his first French exhibition open to the general public.
Dozens of collages he created from scraps of discarded magazines during and after the Communist regime of Nicolae Ceausescu are on sale for more than €1,000 (£895) each. They are being hailed as politically brave and culturally irreverent.
For the 63-year-old artist, the journey from the streets of Bucharest to the galleries of Europe has finally granted him recognition. "I feel as if I have been born again," he said, as some of France's leading collectors and curators jostled for position to see his collages. "Now I feel like a prince. A pauper can become a prince. But he can go back to being a pauper too."
[div class=attrib]More from theSource here.[end-div]