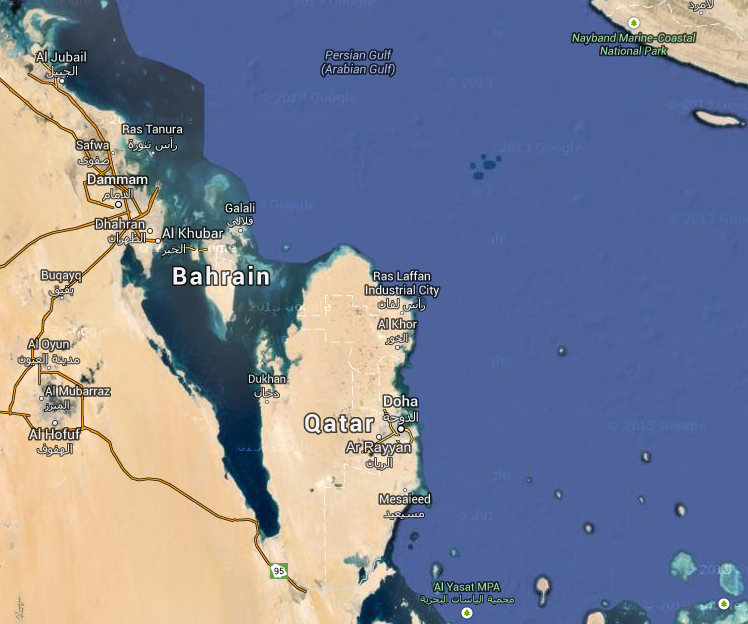 Qatar hosts the World Cup in 2022. This gives the emirate another 8 years to finish construction of the various football venues, hotels and infrastructure required to support the world's biggest single sporting event.
Perhaps, it will also give the emirate some time to clean up its appalling record of worker abuse and human rights violations. Numerous  laborers have died during the construction process, while others are paid minimal wages or not at all. And to top it off most employees live in atrocious conditions , cannot move freely, nor can they change jobs or even repatriate — many come from the Indian subcontinent or East Asia. You could be forgiven for labeling these people indentured servants rather than workers.
From the Guardian:
Migrant workers who built luxury offices used by Qatar's 2022 football World Cup organisers have told the Guardian they have not been paid for more than a year and are now working illegally from cockroach-infested lodgings.
Officials in Qatar's Supreme Committee for Delivery and Legacy have been using offices on the 38th and 39th floors of Doha's landmark al-Bidda skyscraper – known as the Tower of Football – which were fitted out by men from Nepal, Sri Lanka and India who say they have not been paid for up to 13 months' work.
The project, a Guardian investigation shows, was directly commissioned by the Qatar government and the workers' plight is set to raise fresh doubts over the autocratic emirate's commitment to labour rights as construction starts this year on five new stadiums for the World Cup.
The offices, which cost £2.5m to fit, feature expensive etched glass, handmade Italian furniture, and even a heated executive toilet, project sources said. Yet some of the workers have not been paid, despite complaining to the Qatari authorities months ago and being owed wages as modest as £6 a day.
By the end of this year, several hundred thousand extra migrant workers from some of the world's poorest countries are scheduled to have travelled to Qatar to build World Cup facilities and infrastructure. The acceleration in the building programme comes amid international concern over a rising death toll among migrant workers and the use of forced labour.
"We don't know how much they are spending on the World Cup, but we just need our salary," said one worker who had lost a year's pay on the project. "We were working, but not getting the salary. The government, the company: just provide the money."
The migrants are squeezed seven to a room, sleeping on thin, dirty mattresses on the floor and on bunk beds, in breach of Qatar's own labour standards. They live in constant fear of imprisonment because they have been left without paperwork after the contractor on the project, Lee Trading and Contracting, collapsed. They say they are now being exploited on wages as low as 50p an hour.
Their case was raised with Qatar's prime minister by Amnesty International last November, but the workers have said 13 of them remain stranded in Qatar. Despite having done nothing wrong, five have even been arrested and imprisoned by Qatari police because they did not have ID papers. Legal claims lodged against the former employer at the labour court in November have proved fruitless. They are so poor they can no longer afford the taxi to court to pursue their cases, they say.
A 35-year-old Nepalese worker and father of three who ssaid he too had lost a year's pay: "If I had money to buy a ticket, I would go home."
Qatar's World Cup organising committee confirmed that it had been granted use of temporary offices on the floors fitted out by the unpaid workers. It said it was "heavily dismayed to learn of the behaviour of Lee Trading with regard to the timely payment of its workers". The committee stressed it did not commission the firm. "We strongly disapprove and will continue to press for a speedy and fair conclusion to all cases," it said.
Jim Murphy, the shadow international development secretary, said the revelation added to the pressure on the World Cup organising committee. "They work out of this building, but so far they can't even deliver justice for the men who toiled at their own HQ," he said.
Sharan Burrow, secretary general of the International Trade Union Confederation, said the workers' treatment was criminal. "It is an appalling abuse of fundamental rights, yet there is no concern from the Qatar government unless they are found out," she said. "In any other country you could prosecute this behaviour."
Read the entire article here.
Image: Qatar. Courtesy of Google Maps.

Send to Kindle