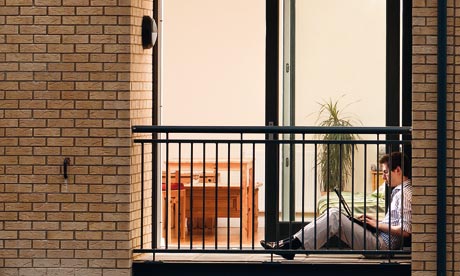 [div class=attrib]From the Guardian:[end-div]
The first time I joined Facebook, I had to quit again immediately. It was my first week of university. I was alone, along with thousands of other students, in a sea of club nights and quizzes and tedious conversations about other people's A-levels. This was back when the site was exclusively for students. I had been told, in no uncertain terms, that joining was mandatory. Failure to do so was a form of social suicide worse even than refusing to drink alcohol. I had no choice. I signed up.
Users of Facebook will know the site has one immutable feature. You don't have to post a profile picture, or share your likes and dislikes with the world, though both are encouraged. You can avoid the news feed, the apps, the tweet-like status updates. You don't even have to choose a favourite quote. The one thing you cannot get away from is your friend count. It is how Facebook keeps score.
Five years ago, on probably the loneliest week of my life, my newly created Facebook page looked me square in the eye and announced: "You have 0 friends." I closed the account.
Facebook is not a good place for a lonely person, and not just because of how precisely it quantifies your isolation. The news feed, the default point of entry to the site, is a constantly updated stream of your every friend's every activity, opinion and photograph. It is a Twitter feed in glorious technicolour, complete with pictures, polls and videos. It exists to make sure you know exactly how much more popular everyone else is, casually informing you that 14 of your friends were tagged in the album "Fun without Tom Meltzer". It can be, to say the least, disheartening. Without a real-world social network with which to interact, social networking sites act as proof of the old cliché: you're never so alone as when you're in a crowd.
The pressures put on teenagers by sites such as Facebook are well-known. Reports of cyber-bullying, happy-slapping, even self-harm and suicide attempts motivated by social networking sites have become increasingly common in the eight years since Friendster – and then MySpace, Bebo and Facebook – launched. But the subtler side-effects for a generation that has grown up with these sites are only now being felt. In March this year, the NSPCC published a detailed breakdown of calls made to ChildLine in the last five years. Though overall the number of calls from children and teenagers had risen by just 10%, calls about loneliness had nearly tripled, from 1,853 five years ago to 5,525 in 2009. Among boys, the number of calls about loneliness was more than five times higher than it had been in 2004.
This is not just a teenage problem. In May, the Mental Health Foundation released a report called The Lonely Society? Its survey found that 53% of 18-34-year-olds had felt depressed because of loneliness, compared with just 32% of people over 55. The question of why was, in part, answered by another of the report's findings: nearly a third of young people said they spent too much time communicating online and not enough in person.
[div class=attrib]More from theSource here.[end-div]