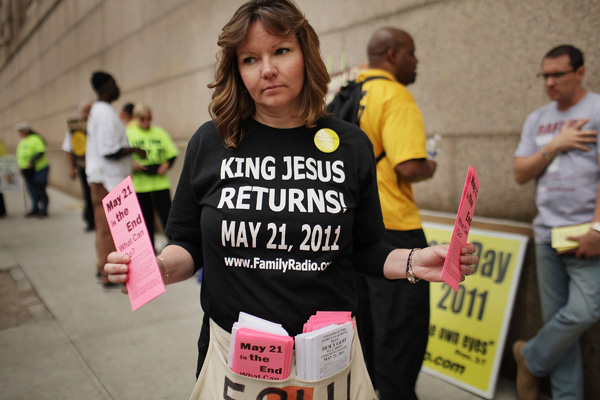 [div class=attrib]From Slate:[end-div]
What happens to a doomsday cult when the world doesn't end?
Preacher and evangelical broadcaster Harold Camping has announced that Jesus Christ will return to Earth this Saturday, May 21, and many of his followers are traveling the country in preparation for the weekend Rapture. They're undeterred, it seems, by Mr. Camping's dodgy track record with end-of-the-world predictions. (Years ago, he argued at length that the reckoning would come in 1994.) We've yet to learn what motivates people like him to predict (and predict again) the end of the world, but there's a long and unexpected psychological literature on how the faithful make sense of missed appointments with the apocalypse.
The most famous study into doomsday mix-ups was published in a 1956 book by renowned psychologist Leon Festinger and his colleagues called When Prophecy Fails. A fringe religious group called the Seekers had made the papers by predicting that a flood was coming to destroy the West Coast. The group was led by an eccentric but earnest lady called Dorothy Martin, given the pseudonym Marian Keech in the book, who believed that superior beings from the planet Clarion were communicating to her through automatic writing. They told her they had been monitoring Earth and would arrive to rescue the Seekers in a flying saucer before the cataclysm struck.
Festinger was fascinated by how we deal with information that fails to match up to our beliefs, and suspected that we are strongly motivated to resolve the conflict—a state of mind he called "cognitive dissonance." He wanted a clear-cut case with which to test his fledgling ideas, so decided to follow Martin's group as the much vaunted date came and went. Would they give up their closely held beliefs, or would they work to justify them even in the face of the most brutal contradiction?
The Seekers abandoned their jobs, possessions, and spouses to wait for the flying saucer, but neither the aliens nor the apocalypse arrived. After several uncomfortable hours on the appointed day, Martin received a "message" saying that the group "had spread so much light that God had saved the world from destruction." The group responded by proselytizing with a renewed vigour. According to Festinger, they resolved the intense conflict between reality and prophecy by seeking safety in numbers. "If more people can be persuaded that the system of belief is correct, then clearly, it must, after all, be correct."
[div class=attrib]More from theSource here:[end-div]