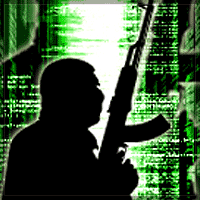 [div class=attrib]From Eurozine:[end-div]
There are clear signs that Internet-radicalization was behind the terrorism of Anders Behring Breivik. Though most research on this points to jihadism, it can teach us a lot about how Internet-radicalization of all kinds can be fought.
On 21 September 2010, Interpol released a press statement on their homepage warning against extremist websites. They pointed out that this is a global threat and that ever more terrorist groups use the Internet to radicalize young people.
"Terrorist recruiters exploit the web to their full advantage as they target young, middle class vulnerable individuals who are usually not on the radar of law enforcement", said Secretary General Ronald K. Noble. He continued: "The threat is global; it is virtual; and it is on our doorsteps. It is a global threat that only international police networks can fully address."
Noble pointed out that the Internet has made the radicalization process easier and the war on terror more difficult. Part of the reason, he claimed, is that much of what takes place is not really criminal.
…
Much research has been done on Internet radicalization over the last few years but the emphasis has been on Islamist terror. The phenomenon can be summarized thus: young boys and men of Muslim background have, via the Internet, been exposed to propaganda, films from war zones, horrifying images of war in Afghanistan, Iraq and Chechnya, and also extreme interpretations of Islam. They are, so to speak, caught in the web, and some have resorted to terrorism, or at least planned it. The BBC documentary Generation Jihad gives an interesting and frightening insight into the phenomenon.
Researchers Tim Stevens and Peter Neumann write in a report focused on Islamist Internet radicalization that Islamist groups are hardly unique in putting the Internet in the service of political extremism:
Although Al Qaeda-inspired Islamist militants represented the most significant terrorist threat to the United Kingdom at the time of writing, Islamist militants are not the only – or even the predominant – group of political extremists engaged in radicalization and recruitment on the internet. Visitor numbers are notoriously difficult to verify, but some of the most popular Islamist militant web forums (for example, Al Ekhlaas, Al Hesbah, or Al Boraq) are easily rivalled in popularity by white supremacist websites such as Stormfront.
Strikingly, Stormfront – an international Internet forum advocating "white nationalism" and dominated by neo-Nazis – is one of the websites visited by the terrorist Anders Behring Breivik, and a forum where he also left comments. In one place he writes about his hope that "the various fractured rightwing movements in Europe and the US reach a common consensus regarding the 'Islamification of Europe/US' can try and reach a consensus regarding the issue". He continues: "After all, we all want the best for our people, and we owe it to them to try to create the most potent alliance which will have the strength to overthrow the governments which support multiculturalism."
[div class=attrib]Read more of this article here.[end-div]
[div class=attrib]Image courtesy of Eurozine.[end-div]