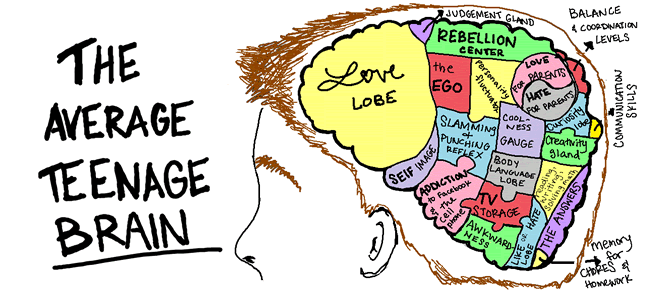 [div class=attrib]From the Wall Street Journal:[end-div]
"What was he thinking?" It's the familiar cry of bewildered parents trying to understand why their teenagers act the way they do.
How does the boy who can thoughtfully explain the reasons never to drink and drive end up in a drunken crash? Why does the girl who knows all about birth control find herself pregnant by a boy she doesn't even like? What happened to the gifted, imaginative child who excelled through high school but then dropped out of college, drifted from job to job and now lives in his parents' basement?
Adolescence has always been troubled, but for reasons that are somewhat mysterious, puberty is now kicking in at an earlier and earlier age. A leading theory points to changes in energy balance as children eat more and move less.
At the same time, first with the industrial revolution and then even more dramatically with the information revolution, children have come to take on adult roles later and later. Five hundred years ago, Shakespeare knew that the emotionally intense combination of teenage sexuality and peer-induced risk could be tragic—witness "Romeo and Juliet." But, on the other hand, if not for fate, 13-year-old Juliet would have become a wife and mother within a year or two.
Our Juliets (as parents longing for grandchildren will recognize with a sigh) may experience the tumult of love for 20 years before they settle down into motherhood. And our Romeos may be poetic lunatics under the influence of Queen Mab until they are well into graduate school.
What happens when children reach puberty earlier and adulthood later? The answer is: a good deal of teenage weirdness. Fortunately, developmental psychologists and neuroscientists are starting to explain the foundations of that weirdness.
The crucial new idea is that there are two different neural and psychological systems that interact to turn children into adults. Over the past two centuries, and even more over the past generation, the developmental timing of these two systems has changed. That, in turn, has profoundly changed adolescence and produced new kinds of adolescent woe. The big question for anyone who deals with young people today is how we can go about bringing these cogs of the teenage mind into sync once again.
The first of these systems has to do with emotion and motivation. It is very closely linked to the biological and chemical changes of puberty and involves the areas of the brain that respond to rewards. This is the system that turns placid 10-year-olds into restless, exuberant, emotionally intense teenagers, desperate to attain every goal, fulfill every desire and experience every sensation. Later, it turns them back into relatively placid adults.
Recent studies in the neuroscientist B.J. Casey's lab at Cornell University suggest that adolescents aren't reckless because they underestimate risks, but because they overestimate rewards—or, rather, find rewards more rewarding than adults do. The reward centers of the adolescent brain are much more active than those of either children or adults. Think about the incomparable intensity of first love, the never-to-be-recaptured glory of the high-school basketball championship.
What teenagers want most of all are social rewards, especially the respect of their peers. In a recent study by the developmental psychologist Laurence Steinberg at Temple University, teenagers did a simulated high-risk driving task while they were lying in an fMRI brain-imaging machine. The reward system of their brains lighted up much more when they thought another teenager was watching what they did—and they took more risks.
From an evolutionary point of view, this all makes perfect sense. One of the most distinctive evolutionary features of human beings is our unusually long, protected childhood. Human children depend on adults for much longer than those of any other primate. That long protected period also allows us to learn much more than any other animal. But eventually, we have to leave the safe bubble of family life, take what we learned as children and apply it to the real adult world.
Becoming an adult means leaving the world of your parents and starting to make your way toward the future that you will share with your peers. Puberty not only turns on the motivational and emotional system with new force, it also turns it away from the family and toward the world of equals.
[div class=attrib]Read more here.[end-div]