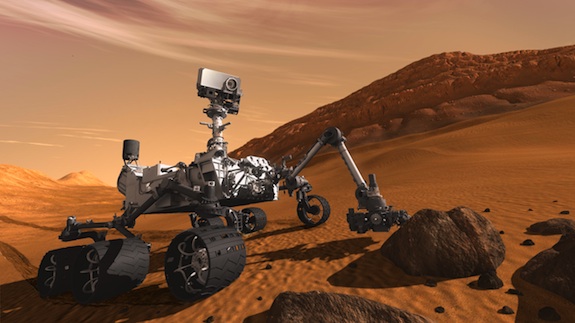 This is the time when NASA's latest foray into space reaches its zenith — the upcoming landing of the Curiosity rover on Mars. At this time NASA's Mars Science Laboratory (MSL) mission plans to deliver the nearly 2,000-pound, car-size robot rover to the surface of Mars. Curiosity will then embark on two years of exploration on the Red Planet.
For mission scientists and science buffs alike Curiosity's descent and landing will be a major event. And, for the first time NASA will have a visual feed beamed back direct from the spacecraft (but only available after the event). The highly complex and fully automated landing has been dubbed "the Seven Minutes of Terror" by NASA engineers. Named for the time lag of signals from Curiosity to reach Earth due to the immense distance, mission scientists (and the rest of us) will not know whether Curiosity successfully descended and landed until a full 7 minutes after the fact.
For more on Curiosity and this special event visit NASA's Jet Propulsion MSL site, here.
[div class=attrib]Image: This artist's concept features NASA's Mars Science Laboratory Curiosity rover, a mobile robot for investigating Mars' past or present ability to sustain microbial life. Courtesy: NASA/JPL-Caltech.[end-div]