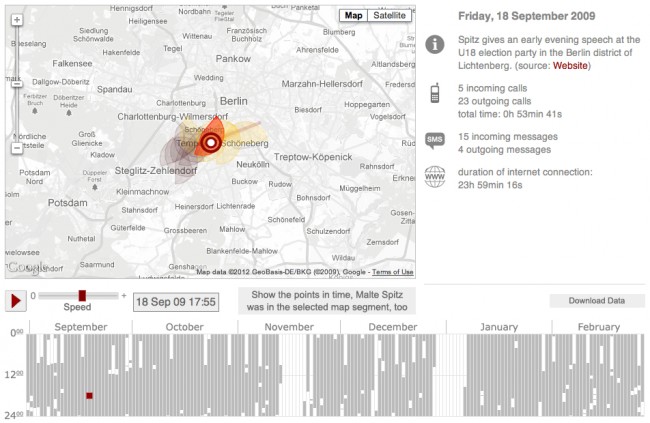 Facebook trawls your profile, status and friends to target ads more effectively. It also allows 3rd parties, for a fee, to mine mountains of aggregated data for juicy analyses. Many online companies do the same. However, some companies are taking this to a whole, new and very personal level.
Here's an example from Germany. Politician Malte Spitz gathered 6 months of his personal geolocation data from his mobile phone company. Then, he combined this data with his activity online, such as Twitter updates, blog entries and website visits. The interactive results seen here, plotted over time and space, show the detailed extent to which an individual's life is being tracked and recorded.
[div class=attrib]From Zeit Online:[end-div]
By pushing the play button, you will set off on a trip through Malte Spitz's life. The speed controller allows you to adjust how fast you travel, the pause button will let you stop at interesting points. In addition, a calendar at the bottom shows when he was in a particular location and can be used to jump to a specific time period. Each column corresponds to one day.
Not surprisingly, Spitz had to sue his phone company, Deutsche Telekom, to gain access to his own phone data.
[div class=attrib]From TED:[end-div]
On August 31, 2009, politician Malte Spitz traveled from Berlin to Erlangen, sending 29 text messages as he traveled. On November 5, 2009, he rocked out to U2 at the Brandenburg Gate. On January 10, 2010, he made 10 outgoing phone calls while on a trip to Dusseldorf, and spent 22 hours, 53 minutes and 57 seconds of the day connected to the internet.
How do we know all this? By looking at a detailed, interactive timeline of Spitz's life, created using information obtained from his cell phone company, Deutsche Telekom, between September 2009 and February 2010.
In an impassioned talk given at TEDGlobal 2012, Spitz, a member of Germany's Green Party, recalls his multiple-year quest to receive this data from his phone company. And he explains why he decided to make this shockingly precise log into public information in the newspaper Die Zeit – to sound a warning bell of sorts.
"If you have access to this information, you can see what your society is doing," says Spitz. "If you have access to this information, you can control your country."
[div class=attrib]Read the entire article after the jump.[end-div]