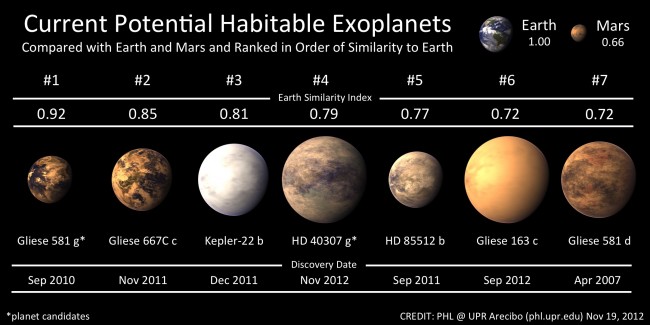 The Habitable Exoplanets Catalog is a fascinating resource for those who dream of starting a new life on a distant world. Only into its first year, the catalog now lists 7 planets outside of our solar system and within our own Milky Way galaxy that could become a future home for adventurous humans — complaints from existing inhabitants notwithstanding. Although, the closest at the moment at a distance of just over 20 light years — Gliese 581g — would take around 200,000 years to reach using current technology.
[div class=attrib]From the Independent:[end-div]
An ambitious project to catalogue every habitable planet has discovered seven worlds inside the Milky Way that could possibly harbour life.
Marking its first anniversary, the Habitable Exoplanets Catalog said it had far exceeded its expectation of adding one or two new planets this year in its search for a new earth.
In recent years scientists from the Puerto Rico-based Planetary Habitability Laboratory that runs the catalogue have sharpened their techniques for finding new planets outside our solar system.
Chile's High Accuracy Radial Veolocity Planet Searcher and the orbiting Kepler Space Telescope are two of the many tools that have increased the pace of discoveries.
The Planetary Habitability Laboratory launched the Habitable Exoplanets Catalog last year to measure the suitability for life of these emerging worlds and as a way to organise them for the public.
It has found nearly 80 confirmed exoplanets with a similar size to Earth but only a few of those have the right distance from their star to support liquid surface water – the presence of which is considered essential to sustain life.
Seven potentially habitable exoplanets are now listed by the Habitable Exoplanets Catalog, including the disputed Gliese 581g, plus some 27 more from NASA Kepler candidates waiting for confirmation.
Although all these exoplanets are superterrans are considered potentially habitable, scientists have not yet found a true Earth analogue.
[div class=attrib]Read the entire article following the jump.[end-div]
[div class=attrib]Image: Current Potential Habitable Exoplanets. Courtesy of CREDIT: PHL @ UPR Arecibo.[end-div]