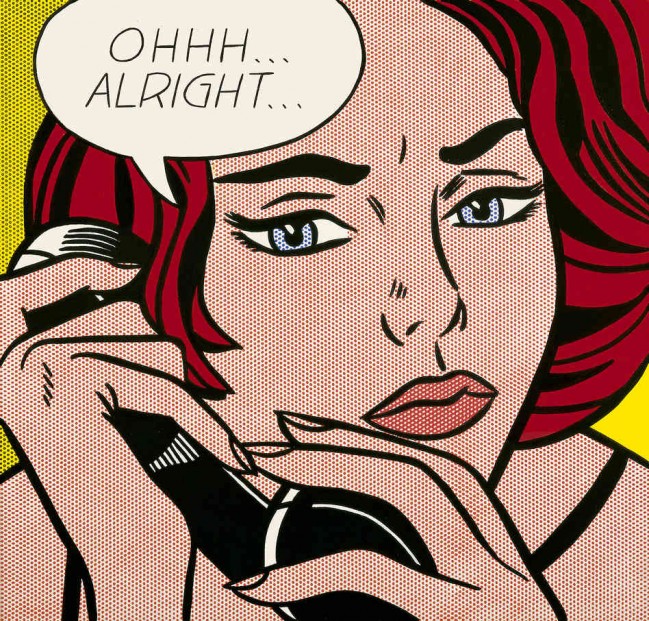 Residents and visitors to London are fortunate — they are bombarded by the rich sights, sounds and smells of one of the world's great cities. One such sight is Tate Modern, ex-power station, now iconic home to some really good art. In fact, they're hosting what promises to be a great exhibit soon — a retrospective of Roy Lichtenstein from February 21 to May 27.
[div class=attrib]From the Telegraph:[end-div]
Black paintwork, white brickwork, in tree-lined Greenwich Village. We're spitting distance from Bleecker, whose elongated vowels once made music for Simon and Garfunkel and Steely Dan. When the floodwaters of the nearby Hudson inched upward and east during Hurricane Sandy, they ceased their creep yards from the steps outside.
Inside are the wood floors and fireplace of the area's typical brownstone, but the cosy effect ends when an alcove 'bookcase' turns revolving door, stairway leading downwards. It's straight from the pages of Agatha Christie, even Indiana Jones.
This is one of two entries (the other far less thrilling) to the cavernous room beneath that was once Roy Lichtenstein's studio. The house above was used as a bolthole for visiting friends and family, ensuring he could work undisturbed, day in, day out. His watch was rigorous: 10 to 6, with 90 minutes for lunch.
The building is now home to the Lichtenstein Foundation, where every reference to his work, even wrapping paper, is assiduously filed away alongside the artist's sketchbooks, scrapbooks and working materials. The studio is set up as it was when he was alive. Charts by the sink show dots and lines in every size, colour and combination. The walls have wooden racks designed to tip forward, preventing paint drip. One of his vast murals still hangs there – an incongruous combination of Etruscan meets Henry Moore meets a slice of Swiss cheese.
Aside a scalpel-scored table worktable stands the paint-splattered stool at which the artist whilst drafting and redrafting his compositions. And this is the thing about Lichtenstein. His finished works look so effortless, so without their maker's mark that we rarely think of the hours, methods and materials that went into their producing. He sought to erase all trace of the selective artist engaged in difficult work. He is as apt to slip through our pressing fingers, as one observer put it, as drops of liquid mercury.
Roy Fox Lichtenstein had a long, uncommonly successful career, even if he did spend most of it in his studio rather than out basking in its rewards. With a retrospective of his work – the first since his death from pneumonia in 1997 aged 73 – opening at the Tate this month, comes the chance to assess the painterly approach behind the Pop inspired sheen, and it isn't so hands-off after all.
Lichtenstein, born and raised in 1930s Manhattan, began his creative career at a time when Abstract Expressionism reigned supreme, emotional work predicated on a belief that each work is impossible to repeat. Artists sought to impress upon their public a unique signature that would reveal their inner sensibility. Brushwork, the hand-drawn line – these were the lauded aim.
Now, exiting the woodwork, were artists like Claes Oldenburg and Andy Warhol, using banal subjects to skewer such bloated clichés. The Pop crew drew plugs, step-on trash cans, dollar bills and Don Draper's fizzy saviour, Alka Seltzer. But while most still used a grainy, obviously hand-drawn hatching or line to convey realism, Lichtenstein went a step further.
"I'd always wanted to know the difference between a mark that was art and one that wasn't" he said, "so l chose among the crudest types of illustration – product packaging, mail order catalogues." It provided the type of drawing that was most opposite individual expression and its lack of nuance appealed greatly. "I don't care what a cup of coffee looks like" he said. "I only care about how it's drawn."
[div class=attrib]Read the entire article after the jump.[end-div]
[div class=attrib]Image: Ohhh…Alright… by Roy Lichtenstein, 1964. Courtesy of Roy Lichtenstein Foundation / Wikipedia.[end-div]