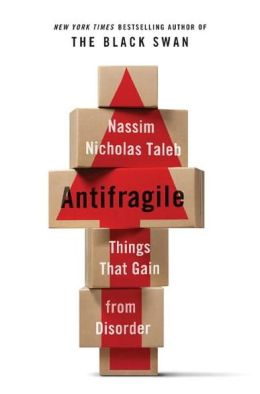 Nassim Nicholas Taleb, one of our favorite thinkers and writers over here at theDiagonal recently published Antifragile, his follow-up to his successful "black swan" title Black Swan. In Antifragile Taleb argues that some things thrive when subjected to volatility, disorder and uncertainty. He labels the positive reaction to these external stressors, antifragility. (Ironically, this book was published by Random House).
In his essay, excerpted below, Taleb summarizes the basic tenets of antifragility and the payoff that we would gain from its empirical measurement. This would certainly represent a leap forward, from our persistent and misguided focus on luck in research, relationships and business.
[div class=attrib]From Edge.org:[end-div]
Something central, very central, is missing in historical accounts of scientific and technological discovery. The discourse and controversies focus on the role of luck as opposed to teleological programs (from telos, "aim"), that is, ones that rely on pre-set direction from formal science. This is a faux-debate: luck cannot lead to formal research policies; one cannot systematize, formalize, and program randomness. The driver is neither luck nor direction, but must be in the asymmetry (or convexity) of payoffs, a simple mathematical property that has lied hidden from the discourse, and the understanding of which can lead to precise research principles and protocols.
MISSING THE ASYMMETRY
The luck versus knowledge story is as follows. Ironically, we have vastly more evidence for results linked to luck than to those coming from the teleological, outside physics—even after discounting for the sensationalism. In some opaque and nonlinear fields, like medicine or engineering, the teleological exceptions are in the minority, such as a small number of designer drugs. This makes us live in the contradiction that we largely got here to where we are thanks to undirected chance, but we build research programs going forward based on direction and narratives. And, what is worse, we are fully conscious of the inconsistency.
The point we will be making here is that logically, neither trial and error nor "chance" and serendipity can be behind the gains in technology and empirical science attributed to them. By definition chance cannot lead to long term gains (it would no longer be chance); trial and error cannot be unconditionally effective: errors cause planes to crash, buildings to collapse, and knowledge to regress.
The beneficial properties have to reside in the type of exposure, that is, the payoff function and not in the "luck" part: there needs to be a significant asymmetry between the gains (as they need to be large) and the errors (small or harmless), and it is from such asymmetry that luck and trial and error can produce results. The general mathematical property of this asymmetry is convexity (which is explained in Figure 1); functions with larger gains than losses are nonlinear-convex and resemble financial options. Critically, convex payoffs benefit from uncertainty and disorder. The nonlinear properties of the payoff function, that is, convexity, allow us to formulate rational and rigorous research policies, and ones that allow the harvesting of randomness.
OPAQUE SYSTEMS AND OPTIONALITY
Further, it is in complex systems, ones in which we have little visibility of the chains of cause-consequences, that tinkering, bricolage, or similar variations of trial and error have been shown to vastly outperform the teleological—it is nature's modus operandi. But tinkering needs to be convex; it is imperative. Take the most opaque of all, cooking, which relies entirely on the heuristics of trial and error, as it has not been possible for us to design a dish directly from chemical equations or reverse-engineer a taste from nutritional labels. We take hummus, add an ingredient, say a spice, taste to see if there is an improvement from the complex interaction, and retain if we like the addition or discard the rest. Critically we have the option, not the obligation to keep the result, which allows us to retain the upper bound and be unaffected by adverse outcomes.
This "optionality" is what is behind the convexity of research outcomes. An option allows its user to get more upside than downside as he can select among the results what fits him and forget about the rest (he has the option, not the obligation). Hence our understanding of optionality can be extended to research programs — this discussion is motivated by the fact that the author spent most of his adult life as an option trader. If we translate François Jacob's idea into these terms, evolution is a convex function of stressors and errors —genetic mutations come at no cost and are retained only if they are an improvement. So are the ancestral heuristics and rules of thumbs embedded in society; formed like recipes by continuously taking the upper-bound of "what works". But unlike nature where choices are made in an automatic way via survival, human optionality requires the exercise of rational choice to ratchet up to something better than what precedes it —and, alas, humans have mental biases and cultural hindrances that nature doesn't have. Optionality frees us from the straightjacket of direction, predictions, plans, and narratives. (To use a metaphor from information theory, if you are going to a vacation resort offering you more options, you can predict your activities by asking a smaller number of questions ahead of time.)
While getting a better recipe for hummus will not change the world, some results offer abnormally large benefits from discovery; consider penicillin or chemotherapy or potential clean technologies and similar high impact events ("Black Swans"). The discovery of the first antimicrobial drugs came at the heel of hundreds of systematic (convex) trials in the 1920s by such people as Domagk whose research program consisted in trying out dyes without much understanding of the biological process behind the results. And unlike an explicit financial option for which the buyer pays a fee to a seller, hence tend to trade in a way to prevent undue profits, benefits from research are not zero-sum.
[div class=attrib]Read the entire article following the jump.[end-div]
[div class=attrib]Image: Antifragile by Naseem Nicholas Taleb, book cover. Courtesy of the author / Random House / Barnes & Noble.[end-div]