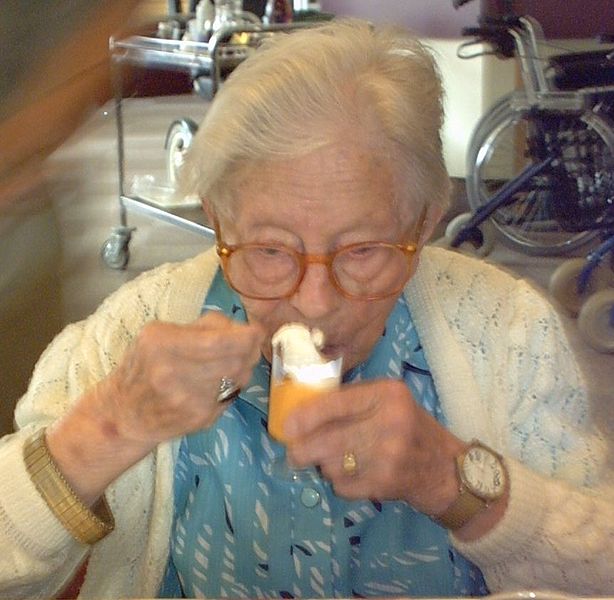 Stem cells — the factories that manufacture all our component body parts — may hold a key to divining why our bodies gradually break down as we age. A new body of research shows how the body's population of blood stem cells mutates, and gradually dies, over a typical lifespan. Sometimes these mutations turn cancerous, sometimes not. Luckily for us, the research is centered on the blood samples of Hendrikje van Andel-Schipper — she died in 2005 at the age of 115, and donated her body to science. Her body showed a remarkable resilience — no hardening of the arteries and no deterioration of her brain tissue.  When quizzed about the secret of her longevity, she once retorted, "breathing".
From the New Scientist:
Death is the one certainty in life – a pioneering analysis of blood from one of the world's oldest and healthiest women has given clues to why it happens.
Born in 1890, Hendrikje van Andel-Schipper was at one point the oldest woman in the world. She was also remarkable for her health, with crystal-clear cognition until she was close to death, and a blood circulatory system free of disease. When she died in 2005, she bequeathed her body to science, with the full support of her living relatives that any outcomes of scientific analysis – as well as her name – be made public.
Researchers have now examined her blood and other tissues to see how they were affected by age.
What they found suggests, as we could perhaps expect, that our lifespan might ultimately be limited by the capacity for stem cells to keep replenishing tissues day in day out. Once the stem cells reach a state of exhaustion that imposes a limit on their own lifespan, they themselves gradually die out and steadily diminish the body's capacity to keep regenerating vital tissues and cells, such as blood.
Two little cells
In van Andel-Schipper's case, it seemed that in the twilight of her life, about two-thirds of the white blood cells remaining in her body at death originated from just two stem cells, implying that most or all of the blood stem cells she started life with had already burned out and died.
"Is there a limit to the number of stem cell divisions, and does that imply that there's a limit to human life?" asks Henne Holstege of the VU University Medical Center in Amsterdam, the Netherlands, who headed the research team. "Or can you get round that by replenishment with cells saved from earlier in your life?" she says.
The other evidence for the stem cell fatigue came from observations that van Andel-Schipper's white blood cells had drastically worn-down telomeres – the protective tips on chromosomes that burn down like wicks each time a cell divides. On average, the telomeres on the white blood cells were 17 times shorter than those on brain cells, which hardly replicate at all throughout life.
The team could establish the number of white blood cell-generating stem cells by studying the pattern of mutations found within the blood cells. The pattern was so similar in all cells that the researchers could conclude that they all came from one of two closely related "mother" stem cells.
Point of exhaustion
"It's estimated that we're born with around 20,000 blood stem cells, and at any one time, around 1000 are simultaneously active to replenish blood," says Holstege. During life, the number of active stem cells shrinks, she says, and their telomeres shorten to the point at which they die – a point called stem-cell exhaustion.
Holstege says the other remarkable finding was that the mutations within the blood cells were harmless – all resulted from mistaken replication of DNA during van Andel-Schipper's life as the "mother" blood stem cells multiplied to provide clones from which blood was repeatedly replenished.
She says this is the first time patterns of lifetime "somatic" mutations have been studied in such an old and such a healthy person. The absence of mutations posing dangers of disease and cancer suggest that van Andel-Schipper had a superior system for repairing or aborting cells with dangerous mutations.
Read the entire article here.
Image: Hendrikje van Andel-Schipper, aged 113. Courtesy of Wikipedia.