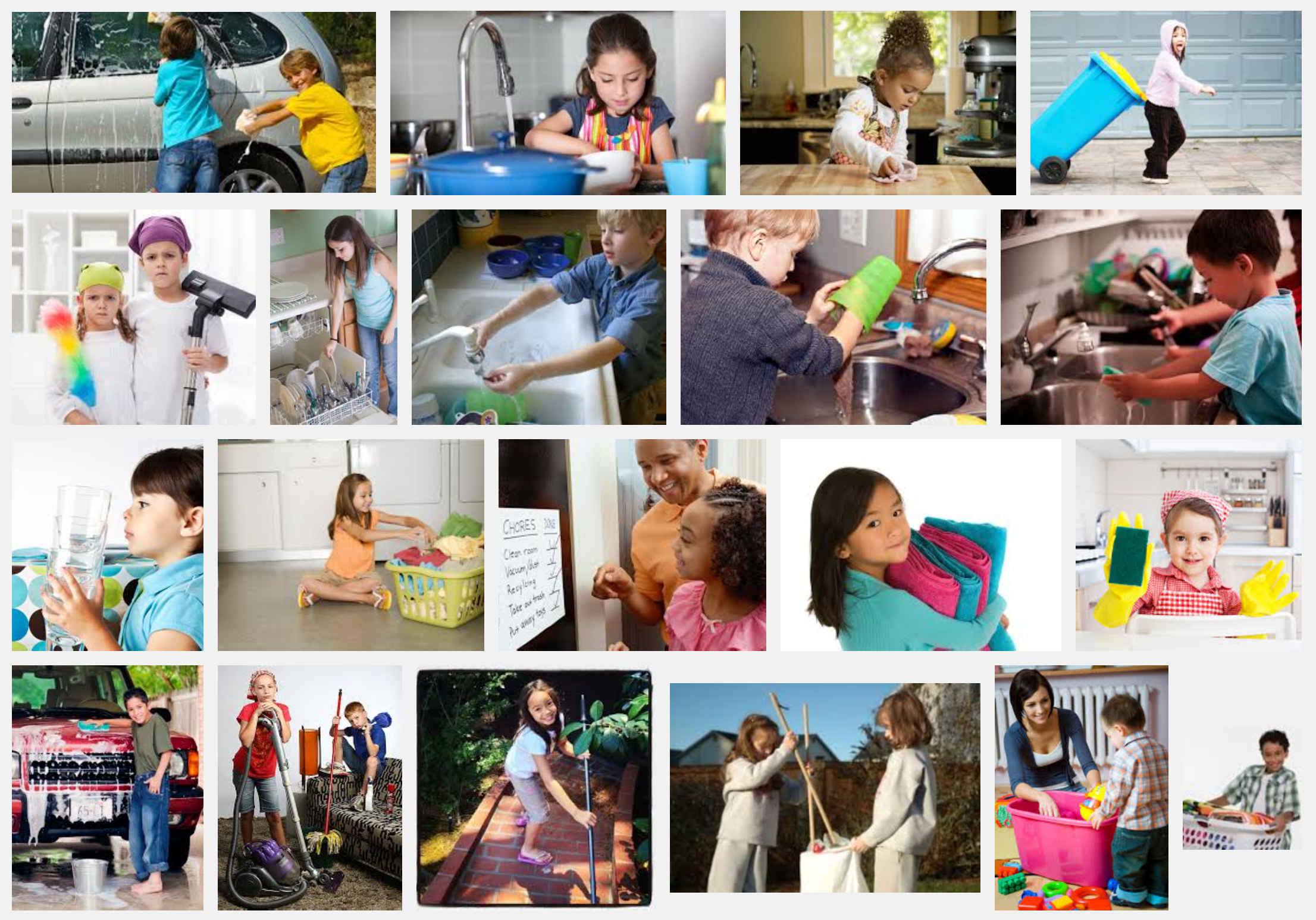 Apparently household chores are becoming rather yesterday. Several recent surveys — no doubt commissioned by my children — show that shared duties in the home are a dying phenomenon. No, I here you cry. Not only do chores provide a necessary respite from the otherwise 24/7-videogame-texting addiction, they help establish a sense of responsibility and reinforce our increasingly imperiled altruistic tendencies. So, parents, get out the duster, vacuum, fresh sheets, laundry basket and put those (little) people to work before it's too late. But first of all let's rename "chores" to responsibilities.
From WSJ:
Today's demands for measurable childhood success—from the Common Core to college placement—have chased household chores from the to-do lists of many young people. In a survey of 1,001 U.S. adults released last fall by Braun Research, 82% reported having regular chores growing up, but only 28% said that they require their own children to do them. With students under pressure to learn Mandarin, run the chess club or get a varsity letter, chores have fallen victim to the imperatives of resume-building—though it is hardly clear that such activities are a better use of their time.
"Parents today want their kids spending time on things that can bring them success, but ironically, we've stopped doing one thing that's actually been a proven predictor of success—and that's household chores," says Richard Rende, a developmental psychologist in Paradise Valley, Ariz., and co-author of the forthcoming book "Raising Can-Do Kids." Decades of studies show the benefits of chores—academically, emotionally and even professionally.
Giving children household chores at an early age helps to build a lasting sense of mastery, responsibility and self-reliance, according to research by Marty Rossmann, professor emeritus at the University of Minnesota. In 2002, Dr. Rossmann analyzed data from a longitudinal study that followed 84 children across four periods in their lives—in preschool, around ages 10 and 15, and in their mid-20s. She found that young adults who began chores at ages 3 and 4 were more likely to have good relationships with family and friends, to achieve academic and early career success and to be self-sufficient, as compared with those who didn't have chores or who started them as teens.
Chores also teach children how to be empathetic and responsive to others' needs, notes psychologist Richard Weissbourd of the Harvard Graduate School of Education. In research published last year, he and his team surveyed 10,000 middle- and high-school students and asked them to rank what they valued more: achievement, happiness or caring for others.
Almost 80% chose either achievement or happiness over caring for others. As he points out, however, research suggests that personal happiness comes most reliably not from high achievement but from strong relationships. "We're out of balance," says Dr. Weissbourd. A good way to start readjusting priorities, he suggests, is by learning to be kind and helpful at home.
Read the entire story here.
Image courtesy of Google Search.