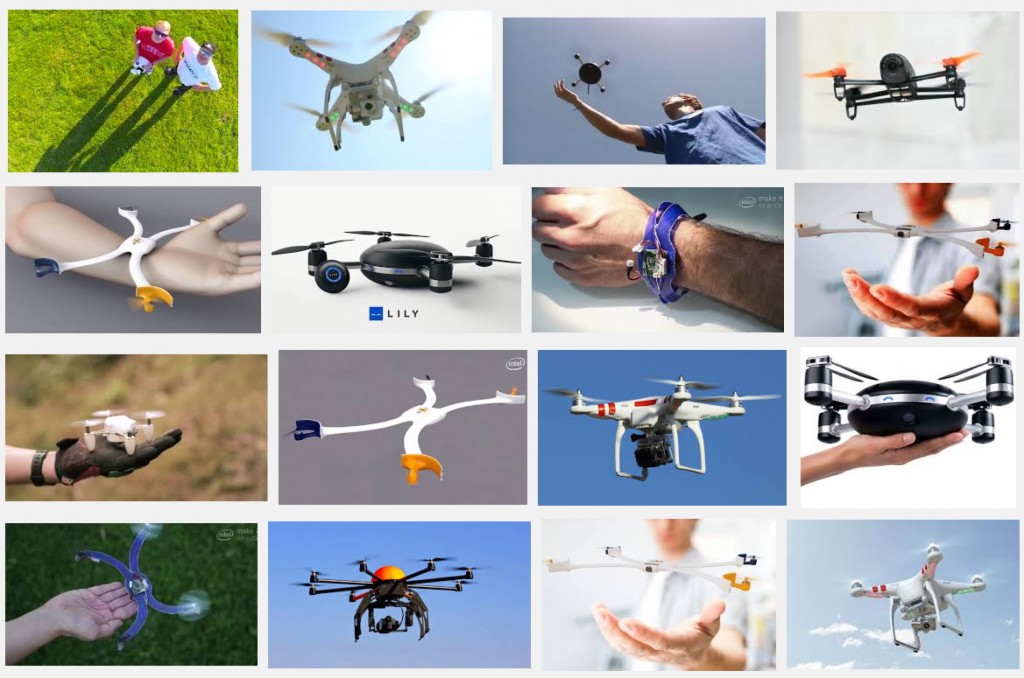 Those of you who crave a quiet, reflective escape from the incessant noise of the modern world, may soon find even fewer places for quiet respite. Make the most of your calming visit to the beach or a mountain peak or an alpine lake or an emerald forest before you are jolted back to reality by swarms of buzzing selfie-drones. It's rather ironic to see us regress as our technology evolves. Oh, and you can even get a wearable one! Does our penchant for narcissistic absorption have no bounds? That said, there is one positive to come of this dreadful application of a useful invention — the selfie-stick may be on the way out. I will now revert to my quiet cave for the next 50 years.
From NYT:
It was a blistering hot Sunday in Provence. The painted shutters of the houses in Arles were closed. Visitors were scarce. In the Roman amphitheater, built to hold some 20,000 spectators, I sat among empty bleachers, above homes with orange tile roofs, looking past ancient arcades and terraces to the blue horizon. Was this the sort of stillness van Gogh experienced when he was in Arles on this same June day in 1888? I began to entertain the thought but was distracted by a soft whirring; a faint electric hum. Something was drawing near. I looked around and saw nothing — until it and I were eye to eye.
Or rather, eye to lens. A drone resembling one of those round Roomba robotic vacuums had levitated from the pit of the nearly 2,000-year-old arena and was hovering in the air between me and the cloudless horizon. Reflexively I turned away and tugged on the hem of my dress. Who knew where this flying Roomba was looking or what it was recording?
Unexpected moments of tranquility, like finding yourself in a near-empty Roman arena during a heat wave, are becoming more and more elusive. If someone isn't about to inadvertently impale you with a selfie-stick, another may catch you on video with a recreational drone, like the DJI Phantom (about $500 to $1,600), which is easy to use (unless you're inebriated, like the man who crashed a Phantom on the White House grounds in January).
Yet what travelers are seeing today — remote-controlled drones bobbing around tourist sites, near airports, in the Floridian National Golf Club in Palm City while President Obama played golf — is but the tip of the iceberg. Think remote-controlled drones and selfie-sticks are intrusive? Prepare for the selfie-drone.
This next generation of drones, which are just beginning to roll out, doesn't require users to hold remote controllers: They are hands-free. Simply toss them in the air, and they will follow you like Tinker Bell. With names such as Lily (around $700 on pre-order) and Nixie (not yet available for pre-order), they are capable of recording breathtaking video footage and trailing adventure travelers across bridges and streams, down ski slopes and into secluded gardens.
Nixie, which you can wear on your wrist until you want to fling it off for a photo or video, has a "boomerang mode" that allows it to fly back to you as if it were a trained raptor. A promotional video for Lily shows a man with a backpack lobbing the drone like a stone over a bridge and casually walking away, only to have the thing float up and follow him. Think you can outmaneuver the contraption in white-water rapids? Lily is waterproof. I watched with awe a video of Lily being dumped into a river beside a woman in a kayak (where one assumes Lily will perish), yet within seconds emerging and rising, like Glenn Close from the bathtub in "Fatal Attraction."
There is no denying that the latest drone technology is impressive. And the footage is striking. Adventure travelers who wish to watch themselves scale Kilimanjaro or surf in Hawaii along the North Shore of Oahu will no doubt want one. But if selfie-drones become staples of every traveler who can afford them, we stand to lose more than we stand to gain when it comes to privacy, safety and quality-of-life factors like peace and beauty.
Imagine sunsets at the lake or beach with dozens of selfie-drones cluttering the sky, each vying for that perfect shot. Picture canoodling on a seemingly remote park bench during your romantic getaway and ending up on video. The intimate walks and tête-à-têtes that call to mind Jane Eyre and Mr. Rochester would hardly be the same with drones whizzing by. Think of your children building sand castles and being videotaped by passing drones. Who will be watching and recording us, and where will that information end up?
I shudder to think of 17- and 18-year-olds receiving drones for Christmas and on their winter vacations crashing the contraptions into unsuspecting sunbathers. Or themselves. Lest you think I joke, consider that in May the singer Enrique Iglesias, who is well past his teenage years, sliced his fingers while trying to snap a photo with a (remote-controlled) drone during his concert in Mexico.
Read the entire article here.
Image courtesy of Google Search.