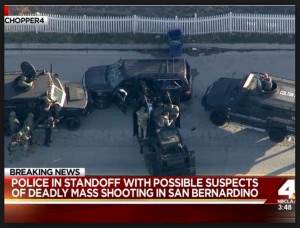 Within the space of a few days we've witnessed two more acts of atrocious violence and murder. One in San Bernardino, California, the other in London, England.
In California 14 innocent people lost there lives and, by some accounts, 21 people were injured, and of course many hundreds of police officers and first-responders put their lives at risk in searching for and confronting the murderers.
In London, 3 people were injured, one seriously by an attacker on the London Underground (subway).

Label these attacks acts of terrorism; acts of deranged minds. But, whether driven by warped ideologies or mental health issues the murder and violence in California and London shows one very stark difference.
Guns. Lots of guns.
The attackers in California were armed to the teeth: handguns, semi-automatic weapons and thousands of rounds of ammunition. The attacker in London was wielding a knife. You see, terrorism, violent radicalism and mental health problems exist — much to the same extent — in both the US and UK (and across the globe for that matter). But more often than not the outcome will be rather different — that is, more bloody and deadly — in the US because of access to weapons that conveniently facilitate mass murder.
And, sadly until a significant proportion of the US population comes to terms with this fact, rather than hiding behind a distorted interpretation of the 2nd Amendment, the carnage and mass murder — in the US — will continue.