Another day, another mass shooting. Only in the United States do citizens and their political leaders take action to counter terrorism but sit idly by when it comes to tackling the enormity of domestic gun violence. Soon, no doubt, we'll hear of a child accidentally killing his younger sibling with a handgun. On it goes.
So, here's yet another infographic — courtesy of Wired — on the subject, which puts the scale of this abhorrent and relentless tragedy quite starkly.
Between 2003 and 2013, domestic and international terrorism killed 312 US citizens. During that same period, in the US, 346,681 people died at the hands of someone with a gun. That's over 31,500 gun deaths per year. Gotta have those guns!
Yet this is the difference in reactions: when the perpetrator is a foreign terrorist we deploy the full force of the US, be it drones, NSA, CIA, FBI, our armed services; when it's a raging neighbor with a gun we hold a candlelight vigil.
If you want to take some action beyond reciting a few prayers and lighting a candle, please visit Americans For Responsible Solutions. Remember, if we sit idly by, we are complicit.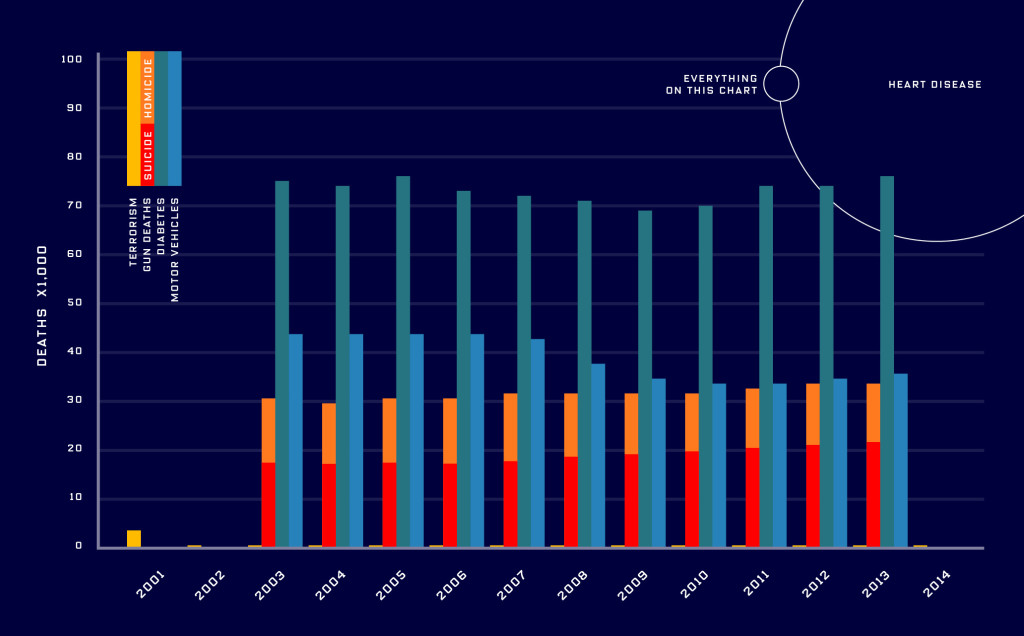 Infographic courtesy of Wired.