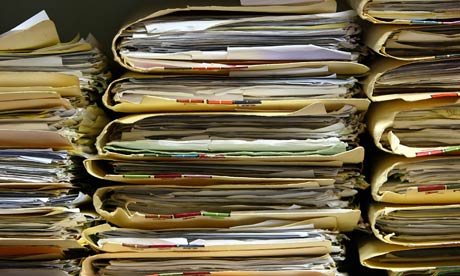 The United States spends around $2.5 trillion per year on health care. Approximately 14 percent of this is administrative spending. That's $360 billion, yes, billion with a 'b', annually. And, by all accounts a significant proportion of this huge sum is duplicate, redundant, wasteful and unnecessary spending — that's a lot of paperwork.
[div class=attrib]From the New York Times:[end-div]
LAST year I had to have a minor biopsy. Every time I went in for an appointment, I had to fill out a form requiring my name, address, insurance information, emergency contact person, vaccination history, previous surgical history and current medical problems, medications and allergies. I must have done it four times in just three days. Then, after my procedure, I received bills — and, even more annoying, statements of charges that said they weren't bills — almost daily, from the hospital, the surgeon, the primary care doctor, the insurance company.
Imagine that repeated millions of times daily and you have one of the biggest money wasters in our health care system. Administration accounts for roughly 14 percent of what the United States spends on health care, or about $360 billion per year. About half of all administrative costs — $163 billion in 2009 — are borne by Medicare, Medicaid and insurance companies. The other half pays for the legions employed by doctors and hospitals to fill out billing forms, keep records, apply for credentials and perform the myriad other administrative functions associated with health care.
The range of expert opinions on how much of this could be saved goes as high as $180 billion, or half of current expenditures. But a more conservative and reasonable estimate comes from David Cutler, an economist at Harvard, who calculates that for the whole system — for insurers as well as doctors and hospitals — electronic billing and credentialing could save $32 billion a year. And United Health comes to a similar estimate, with 20 percent of savings going to the government, 50 percent to physicians and hospitals and 30 percent to insurers. For health care cuts to matter, they have to be above 1 percent of total costs, or $26 billion a year, and this conservative estimate certainly meets that threshold.
How do we get to these savings? First, electronic health records would eliminate the need to fill out the same forms over and over. An electronic credentialing system shared by all hospitals, insurance companies, Medicare, Medicaid, state licensing boards and other government agencies, like the Drug Enforcement Administration, could reduce much of the paperwork doctors are responsible for that patients never see. Requiring all parties to use electronic health records and an online system for physician credentialing would reduce frustration and save billions.
But the real savings is in billing. There are at least six steps in the process: 1) determining a patient's eligibility for services; 2) obtaining prior authorization for specialist visits, tests and treatments; 3) submitting claims by doctors and hospitals to insurers; 4) verifying whether a claim was received and where in the process it is; 5) adjudicating denials of claims; and 6) receiving payment.
Substantial costs arise from the fact that doctors, hospitals and other care providers must bill multiple insurance companies. Instead of having a unified electronic billing system in which a patient could simply swipe an A.T.M.-like card for automatic verification of eligibility, claims processing and payment, we have a complicated system with lots of expensive manual data entry that produces costly mistakes.
[div class=attrib]Read more of this article here.[end-div]
[div class=attrib]Image: Piles of paperwork. Courtesy of the Guardian.[end-div]