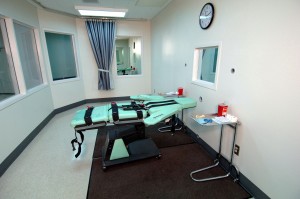 A team of psychologists recently compiled and assessed the last words of prison inmates who were facing execution in Texas.
I was surprised to learn of a publicly accessible "last statement" database, available via Texas' department of criminal justice.
Whether you subscribe to the idea that the death penalty is just [I do not] or not, you will surely find these final utterances moving — time for some reflection.
From the Independent:
Psychologists have analysed the last words of inmates who were condemned to death in Texas.
In a new paper, published in Frontiers in Psychology, researchers Dr. Sarah Hirschmüller and Dr. Boris Egloff used a database of last statements of inmates on death row and found the majority of the statements to be positive.
The researchers theorise that the inmates, the average age of whom in the current dataset is just over 39, expressed positive sentiments, because their minds were working in overdrive to avert them from fearing their current situation.
This is called 'Terror-Management Theory' (TMT). The concept is that people search for meaning when confronted with terror in a bid to maintain self-esteem and that "individuals employ a wide range of cognitive and behavioural efforts to regulate the anxiety that mortality salience evokes."
Read more here.
Image: Execution room in the San Quentin State Prison in California. Public Domain.