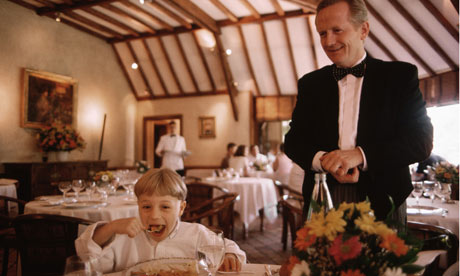 French children, it seems, unlike their cousins in the United States, don't suffer temper tantrums, sit patiently at meal-times, defer to their parents, eat all their vegetables, respect adults, and are generally happy. Why is this and should American parents ditch the latest pop psychology handbooks for parenting lessons from La Belle France?
[div class=attrib]From the Wall Street Journal:[end-div]
When my daughter was 18 months old, my husband and I decided to take her on a little summer holiday. We picked a coastal town that's a few hours by train from Paris, where we were living (I'm American, he's British), and booked a hotel room with a crib. Bean, as we call her, was our only child at this point, so forgive us for thinking: How hard could it be?
We ate breakfast at the hotel, but we had to eat lunch and dinner at the little seafood restaurants around the old port. We quickly discovered that having two restaurant meals a day with a toddler deserved to be its own circle of hell.
Bean would take a brief interest in the food, but within a few minutes she was spilling salt shakers and tearing apart sugar packets. Then she demanded to be sprung from her high chair so she could dash around the restaurant and bolt dangerously toward the docks.
Our strategy was to finish the meal quickly. We ordered while being seated, then begged the server to rush out some bread and bring us our appetizers and main courses at the same time. While my husband took a few bites of fish, I made sure that Bean didn't get kicked by a waiter or lost at sea. Then we switched. We left enormous, apologetic tips to compensate for the arc of torn napkins and calamari around our table.
After a few more harrowing restaurant visits, I started noticing that the French families around us didn't look like they were sharing our mealtime agony. Weirdly, they looked like they were on vacation. French toddlers were sitting contentedly in their high chairs, waiting for their food, or eating fish and even vegetables. There was no shrieking or whining. And there was no debris around their tables.
Though by that time I'd lived in France for a few years, I couldn't explain this. And once I started thinking about French parenting, I realized it wasn't just mealtime that was different. I suddenly had lots of questions. Why was it, for example, that in the hundreds of hours I'd clocked at French playgrounds, I'd never seen a child (except my own) throw a temper tantrum? Why didn't my French friends ever need to rush off the phone because their kids were demanding something? Why hadn't their living rooms been taken over by teepees and toy kitchens, the way ours had?
Soon it became clear to me that quietly and en masse, French parents were achieving outcomes that created a whole different atmosphere for family life. When American families visited our home, the parents usually spent much of the visit refereeing their kids' spats, helping their toddlers do laps around the kitchen island, or getting down on the floor to build Lego villages. When French friends visited, by contrast, the grownups had coffee and the children played happily by themselves.
By the end of our ruined beach holiday, I decided to figure out what French parents were doing differently. Why didn't French children throw food? And why weren't their parents shouting? Could I change my wiring and get the same results with my own offspring?
Driven partly by maternal desperation, I have spent the last several years investigating French parenting. And now, with Bean 6 years old and twins who are 3, I can tell you this: The French aren't perfect, but they have some parenting secrets that really do work.
I first realized I was on to something when I discovered a 2009 study, led by economists at Princeton, comparing the child-care experiences of similarly situated mothers in Columbus, Ohio, and Rennes, France. The researchers found that American moms considered it more than twice as unpleasant to deal with their kids. In a different study by the same economists, working mothers in Texas said that even housework was more pleasant than child care.
[div class=attrib]Read the entire article here. This is adapted from "Bringing Up Bébé: One American Mother Discovers the Wisdom of French Parenting," to be published February 7, 2012 by the Penguin Press.[end-div]
[div class=attrib]Image: That's the way to do it … a young boy at the Côte d'Or restaurant, Saulieu. Courtesy of Owen Franken/Corbis / Guardian [end-div]