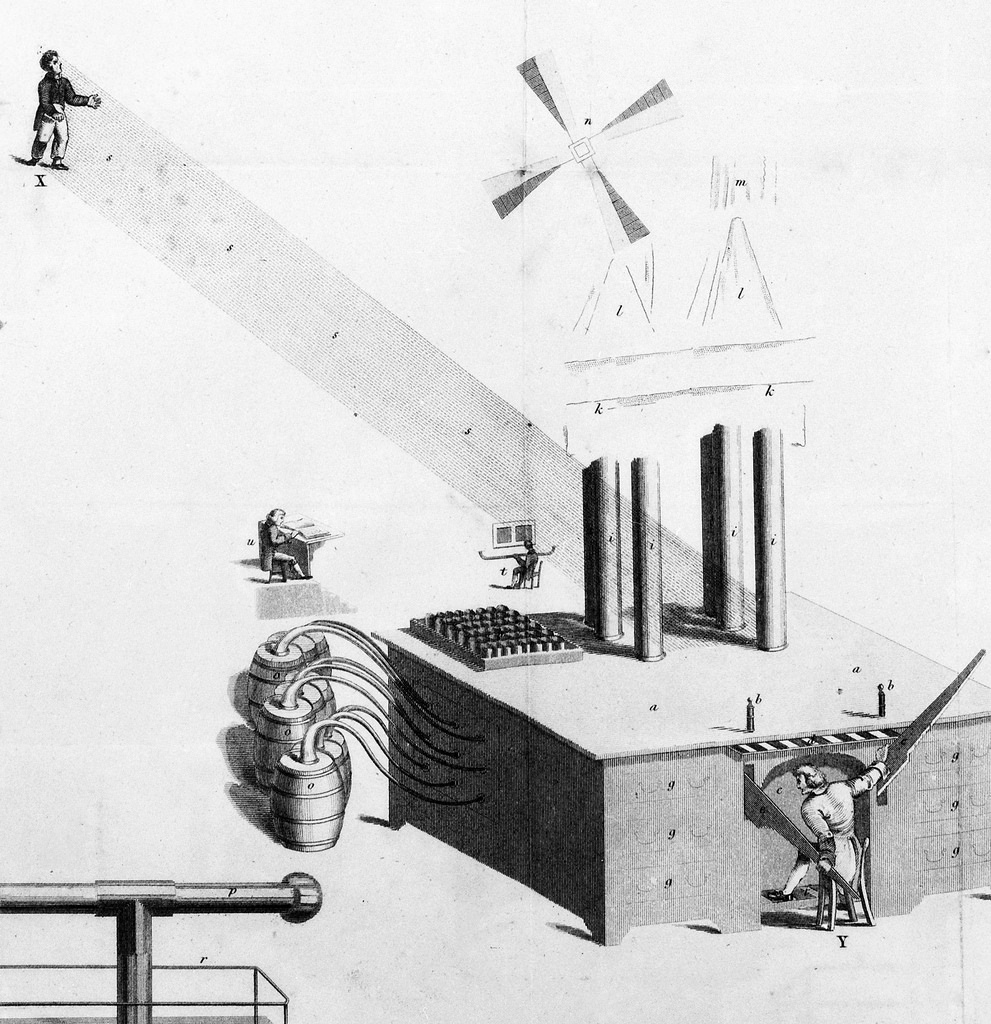 During my college years I was fortunate enough to spend time as a volunteer in a Victorian era psychiatric hospital in the United Kingdom. Fortunate in two ways: that I was able to make some small, yet positive difference to the lives of some of the patients; and, fortunate enough to live on the outside.
Despite the good and professional intentions of the many caring staff the hospital itself — to remain nameless — was a dreary embodiment of many a nightmarish horror flick. The building had dark, endless corridors; small, leaky windows; creaky doors, many with locks exclusively on the outside, and even creakier plumbing; spare cell-like rooms for patients; treatment rooms with passive restraints on chairs and beds. Most locals still called it "____ lunatic asylum".
All of this leads me to the fascinating and tragic story of James Tilly Matthews, a rebellious (and somewhat paranoid) peace activist who was confined to London's infamous Bedlam asylum in 1797. He was incarcerated for believing he was being coerced and brainwashed by a mysterious governmental mind control machine known as the "Air Loom".
Subsequent inquiries pronounced Matthews thoroughly sane, but the British government kept him institutionalized anyway because of his verbal threats against officials and then king, George III. In effect, this made Matthews a political prisoner — precisely that which he had always steadfastly maintained.
Ironically, George III's well-documented, recurrent and serious mental illness had no adverse effect on his own reign as monarch from 1760-1820. Interestingly enough, Bedlam was the popular name for the Bethlem Royal Hospital, sometimes known as St Mary Bethlehem Hospital.
The word "Bedlam", of course, later came to be a synonym for confusion and chaos.
Read the entire story of James Tilly Matthews and his nemesis, apothecary and discredited lay-psychiatrist, John Haslam, at Public Domain Review.
Image: Detail from the lower portion of James Tilly Matthews' illustration of the Air Loom featured in John Haslam's Illustrations of Madness (1810). Courtesy: Public Domain Review / Wellcome Library, London. Public Domain.