Good customer service once meant that a store or service employee would know you by name. This person would know your previous purchasing habits and your preferences; this person would know the names of your kids and your dog. Great customer service once meant that an employee could use this knowledge to anticipate your needs or personalize a specific deal. Well, this type of service still exists — in some places — but many businesses have outsourced it to offshore call center personnel or to machines, or both. Service may seem personal, but it's not — service is customized to suit your profile, but it's not personal in the same sense that once held true.
And, to rub more salt into the customer service wound, businesses now use their automated phone systems seemingly to shield themselves from you, rather than to provide you with the service you want. After all, when was the last time you managed to speak to a real customer service employee after making it through "please press 1 for English", the poor choice of musak or sponsored ads and the never-ending phone menus?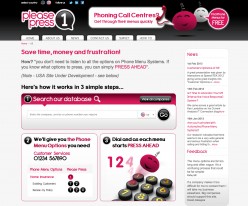 Now thanks to an enterprising and extremely patient soul there is an answer to phone menu hell.
Welcome to Please Press 1. Founded by Nigel Clarke (alumnus of 400 year old Dame Alice Owens School in London), Please Press 1 provides shortcuts for customer service phone menus for many of the top businesses in Britain [ed: we desperately need this service in the United States].
From the MailOnline:
A frustrated IT manager who has spent seven years making 12,000 calls to automated phone centres has launched a new website listing 'short cut' codes which can shave up to eight minutes off calls.
Nigel Clarke, 53, has painstakingly catalogued the intricate phone menus of hundreds of leading multi-national companies – some of which have up to 80 options.
He has now formulated his results into the website pleasepress1.com, which lists which number options to press to reach the desired department.
The father-of-three, from Fawkham, Kent, reckons the free service can save consumers more than eight minutes by cutting out up to seven menu options.
For example, a Lloyds TSB home insurance customer who wishes to report a water leak would normally have to wade through 78 menu options over seven levels to get through to the correct department.
But the new service informs callers that the combination 1-3-2-1-1-5-4 will get them straight through – saving over four minutes of waiting.
Mr Clarke reckons the service could save consumers up to one billion minutes a year.
He said: 'Everyone knows that calling your insurance or gas company is a pain but for most, it's not an everyday problem.
'However, the cumulative effect of these calls is really quite devastating when you're moving house or having an issue.
'I've been working in IT for over 30 years and nothing gets me riled up like having my time wasted through inefficient design.
'This is why I've devoted the best part of seven years to solving this issue.'
Mr Clarke describes call centre menu options as the 'modern equivalent of Dante's circles of hell'.
He sites the HMRC as one of the worst offenders, where callers can take up to six minutes to reach the correct department.
As one of the UK's busiest call centres, the Revenue receives 79 million calls per year, or a potential 4.3 million working hours just navigating menus.
Mr Clarke believes that with better menu design, at least three million caller hours could be saved here alone.
He began his quest seven years ago as a self-confessed 'call centre menu enthusiast'.
'The idea began with the frustration of being met with a seemingly endless list of menu options,' he said.
'Whether calling my phone, insurance or energy company, they each had a different and often worse way of trying to "help" me.
'I could sit there for minutes that seemed like hours, trying to get through their phone menus only to end up at the wrong place and having to redial and start again.'
He began noting down the menu options and soon realised he could shave several minutes off the waiting time.
Mr Clarke said: 'When I called numbers regularly, I started keeping notes of the options to press. The numbers didn't change very often and then it hit me.
Read the entire article here and visit Please Press 1, here.
Images courtesy of Time and Please Press 1.